The UAE famously plays host to a number of extravagant, outrageous and unbelievable cars. Gone are the days when cars were simply a vehicle to get us from A to B. These days, they're also a play thing and prized possession for many people, but for the super-rich they become more than that. We've rounded up some of the fastest, biggest, blingest, craziest and even record breaking cars spotted in the UAE.
The UAE's most exorbitant and outrageous cars
1. The world's largest Power Wagon in Abu Dhabi
If you thought monster trucks were impressive, this behemoth of a truck, at Emirates National Auto Museum will blow your mind. The museum is home to the world's largest Power Wagon! The pickup truck weighs a whopping 50 tonnes, eight times bigger than a standard vehicle, and has four air-conditioned bedrooms, a living room and a bathroom.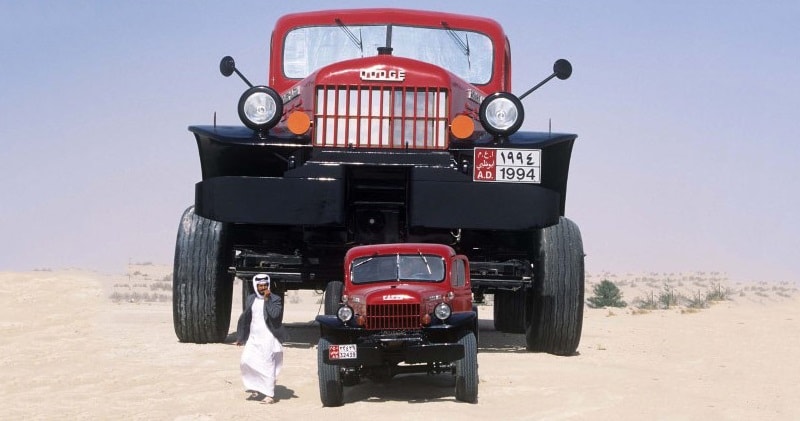 Photograph credit: Wethepeoplewiki
Its owner, Sheikh Hamad bin Hamdan Al Nahyan, has amassed quite a collection of huge vehicles especially SUVs. His collection includes a selection of Nissan Patrols, Jeep Wranglers and Hummer H1s. In fact, he's the Sheikh who carved his name out in an island in Abu Dhabi, which can be viewed from Google Maps too! Guess he's a man who likes to go big!
By now, you're probably curious to know if this beast of a vehicle can actually move. Well, here's an extract from Top Gear's Jeremy Clarkson when he interviewed the Sheikh. It does, in fact drive. We wonder how much it takes to fill up though!
2. Batmobile
You'd expect to see the Batmobile in Gotham City, but not the glittering streets of Dubai. However, this crazy superhero vehicle was seen rolling down Sheikh Zayed road. It's maker is UAE resident and die-hard car enthusiast Amire Adile. He created the car entirely by himself, taking inspiration from computer game, Arkham Knight. It's now amongst the biggest stunners at car shows and meets, with dozens lining up to click a selfie with Batman's go-to ride. The impressive machine was built on the chassis of a Lamborghini Gallardo and sports a V10 engine. Check it out:
3. Devel Sixteen
To say this car is fast feels like an understatement. The Devel Sixteen can reach a top speed of 515 km/h and is equipped with two LS V8s with 1,600 horsepower. Belonging to an elite group of exotic vehicles in the UAE, the hypercar is one of the few automobiles competing with Koenigsegg and Pagani to hit the 500 km/h barrier. Check out Dubai's Supercar Blondie who was the very first person to drive it right here in Dubai.
4. The world's largest model car
Another epic vehicle in Sheikh Hamad's collection, his enormous Willy's Jeep replica stands at 20 ft tall and weighs a staggering 4.4 tons! As a scale model of the original, it is 400% bigger! You might wonder, how does he drive it? Well, there's a tiny driver's seat with the accelerator and brake pedals placed behind the grille.
5. Gold-plated Nissan GTR
Ah, at last a vehicle most of us are familiar with, the iconic Nissan GTR. You've most likely seen them on the highways, car meets or at autodromes, wrapped in plain paint jobs or in decals. This one stands out though because it's owner decided to cover it in pure 24k gold! Well it is Dubai, I guess someone had to do it…
6. White gold-plated Mercedes-Benz SLR
Yellow gold is not the only option of choice when it comes to coating a car in precious metal. There's also a Mercedes-Benz SLR in the country, thought to be worth AED 1.8 million and supposedly wrapped in 18k white gold! Whether or not the shiny coating is actually white gold is up for debate, with some doubting the likelihood when the car was put on display at the Mall of The Emirates. Other reports confirmed that it is indeed sheets of white gold that cover the car. Whatever the case, the mirror shine is certainly impressive and the Merc boasts a V10 quad turbo engine with 1,600 horsepower and 2800 nm of torque 0-100 km/h in less than 2 seconds, 1/4 mile in 6.89 seconds. It also runs on biofuel. It is believed that the car is owned by a billionaire oil giant who hails from Abu Dhabi.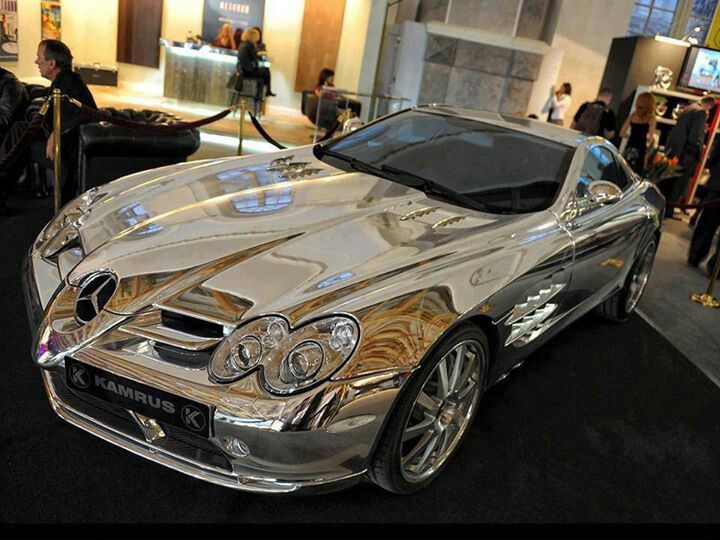 Photograph credit: MTL
7. Coined Range Rover
It doesn't get any more patriotic than this. In a bid to pay tribute to the UAE's founding fathers and Rulers, a motorist went all out decorating his Range Rover with images of the Emirs tinted on the windows and 57,412 coins glued to the body! It features coins from not just the UAE, but also Kuwait, Bahrain, Oman and Saudi Arabia. You'd definitely want to go easy on the speedbumps while driving this or you could literally end up leaving a trail of money behind you!
8. A space-age vehicle on the UAE's roads
Probably the only vehicle of its kind in the region, Dubai has an 'Extra-terrestrial' car by The Car Factory costing a mere $50,000 (AED 180,000). Performance-wise, the vehicle is powered by a Chevrolet Aveo, but its custom body is quite ahead of its time.
9. A military mash up
Sheikh Hamad Bin Hamdan Al Nahyan has been at it again with the crazy car creations. Earlier this year he revealed what he believes to be the largest SUV in the world. The ten wheeled, Mad Max-esque vehicle is a mash up of a Jeep Wrangler, a Dodge Dart and an Oshkosh M1075 military truck. It looks just as mental as it sounds:
9. Mercedes SL600 encrusted in diamonds!
Way back in 2006, in time for Mercedes SL-Class's 50th anniversary, the famed Dubai International Motor Show revealed a jaw-dropping SL-550 coupe featuring 300,000 diamonds attached across the body. The twinkling jewels stretched all the way from its exhaust to the rims and bumpers!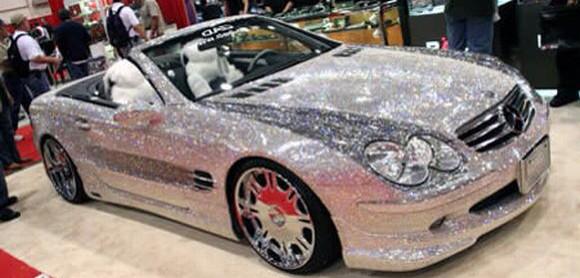 Photograph credit: New Launches
It still remains unclear about the vehicle's owner, reports claim Saudi Royal Alwaleed bin Talal paid a staggering $4.8m (AED 17.6m) price tag for the ride, but his company, Kingdom Holdings issued a statement clarifying he never purchased one. It remains a mystery!
10. Abu Dhabi Police's Lykan Hypersport
We couldn't miss out the enforcers of law and order in this round up. Both Dubai and Abu Dhabi Police boast a stunning fleet of supercars with even Dubai Ambulance Service recently gaining 3 new supercars. It was a tough choice but we had to give the Lykan Hypersport a mention, especially as product of homegrown, Dubai-based W Motors.
The Hypersport comes with a flat-six 3.7-litre engine, 740 horsepower and can do 0-60 miles in just 2.8 seconds. With a top speed of 240mph, even the fastest criminals don't stand much chance in getting away from this beast.
As a working vehicle, Abu Dhabi police have added some special extras to their Hypersport. Using technology known as ekin Patrol, the car can read and register the number plates of the vehicles around it. As if that wasn't impressive enough, it's also capable of facial recognition technology, speed detection and measuring levels of air pollution. Fellow road users may also want to know that this clever car can automatically issue fines, so make sure you're on your best behaviour as the Hypersport won't wait for your excuses!
Whatever next?
The UAE remains a playground for car collectors and enthusiasts, as well as the rich and famous. We're always excited to see new futuristic cars in production because it's surely only a matter of time before we see them cruising past on Sheikh Zayed Road. Here are a few of the most insane out there:
A Rolls Royce 2035 concept car
The German luxury automaker rolled out an experimental 'Vision Next 100 Concept' offering a glimpse of what the future of its sedans will look like. Dubai's homegrown automobile influencer Supercar Blondie had the opportunity to test the vehicle, here's what it looks like:
The world's most powerful Lambo
Lambourghini revealed its first hybrid model at the 2019 Frankfurt motor show. Based on the Aventador's chassis, the Sian FKP 37 is a limited-edition machine that is more expensive, more powerful and better performing than the Aventador SVJ making it the fastest, most powerful Lamborghini ever made. It can be operated in silent mode when parking and reversing.
An amphibious vehicle that can fly underwater
Yes, amphibious cars are a reality, but one car maker decided to take the technology one notch further by making it able to "fly" underwater, like a scuba diving experience! The manufacturer, Rinspeed sQuba introduced the concept 11 years ago but production never commenced at the time. It reportedly cost more than AED 5.5 million to make but if it comes to market, its owner expects the retail price to be "less than a Rolls Royce". Perhaps we'll see one of these rolling off The Walk at JBR and heading straight into the sea at some point!