Things are not only starting to heat up in the city but at the box office too, this summer has a line up of blockbuster films releasing such as 'Jurassic World: Fallen Kingdom', 'Solo: A Star Wars Story', 'Oceans 8' and 'Mission: Impossible-Fallout'. So we're bringing you our top cinema experiences you can enjoy this summer:
Reel Cinemas at Jebel Ali Recreation Club
Recently renovated Jebel Ali Recreation Club has come up with a brilliant concept by Reel Cinemas where people can dine and watch movies. They've teamed up with international celebrity chef Guy Fieri for the first fully licensed stand-alone Guy Fieri Kitchen & Bar and Dine-in Cinema. Cinema-goers can enjoy watching the latest blockbusters and enjoy a selection of Fieri's signature meals and specialty beverages.
Theatre by Rhodes at Vox Cinemas
Movie-theatre giant Vox Cinemas has set the benchmark for film viewing by having comfy reclining seats with adjustable footrest along with an in-cinema waiter at your service on the press of a button, serving exclusive meals from restaurateur and Michelin star chef Gary Rhodes. Filmgoers can look out for this experience in Dubai at Mall of the Emirates in Dubai and in Abu Dhabi at Nation Towers and Yas Mall.
https://twitter.com/voxcinemas/status/996691736100405248
Cinema Akil at Alserkal Avenue
Bridging the gap between indie cinema to UAE film audiences, Cinema Akil hosts free screenings of films and documentaries from across the world. It's the hub for parallel cinema, screening a diverse range of films that contribute to the arts and have storylines based on real cases and matters. Most screenings start at 9:30 pm.
7* at Novo Cinemas
Making film viewing now a luxury, the Novo Cinemas' team has come up with a VIP experience wherein filmgoers can enter the cinema lounge through a private entrance and watch films on reclining seats as well as enjoy food from a gourmet dining menu, served from an in-cinema butler. Their exclusive cinema has advanced visual and sound quality.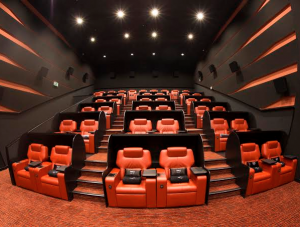 Platinum Plus at Roxy Cinemas
Boutique cinema Roxy Cinemas are providing a film experience in a lounge-like setting with plush recliner seats and a VIP call button. Their experience is for those looking for a film experience with detail to sound and vision. They also have a 'Gold Plus' experience screening films in a relaxed ambiance and 'Silver Plus' experience screening films with a powerful image and surround sound.
4DX at Vox Cinemas
Perhaps the most action-packed cinema experience, the 4DX experience is ideal for action genre movies as filmgoers can experience moving seats during fast-motion scenes, feel winds, experience water effects and smell differing scents.