The Jazz festival is a Dubai institution, and regardless of your taste in music, the event, now in its 17th year, is brimming with world-class A-list talent taking the stage from Wednesday, 20th February to Saturday, 22nd February. If you're in two minds about attending the festival, we're giving six reasons why it's a must.

Stellar line-up
Now that the Jazz Festival has been taken over by event industry heavyweights Done Events (the team behind Blended Music Festival, Redfest DXB and the hilarious DXB Laughs) This is the best lineup we have seen at the Jazz Festival in years. This year's lineup features 15-time Grammy-award winning R&B star Alicia Keys, Irish rock legends Snow Patrol and electro-funk titan Jamiroquai.
Variety of dining options
There's a plethora of dining options if you're looking for a casual bite during the festival. The participating outlets serve a range of cuisines, from Asian to Lebanese to Arabic and Italian. These are: Abu Jad, Ka'ak Al Manara, Crepeaholic, Krispy Kreme, Doughnuts, Gelato Divino, Mantoushe, Moylo's Burgers, Pizza Express, Poke Poke, SMK, Sushi Burrito, Wing Stop and Take a Bao.
Vibrant venue
If you haven't ever been at the Dubai Media City Amphitheatre for a festival or concert, we stand firm that the venue is sure to unleash your party spirit with the high energy electrifying ambience! The venue can accommodate up to 12,000 fans, cheering and grooving to the tunes of the star-studded lineup. If you're one of those overly excited fans, we recommend purchasing tickets for the Golden Circle, the closest area from the stage.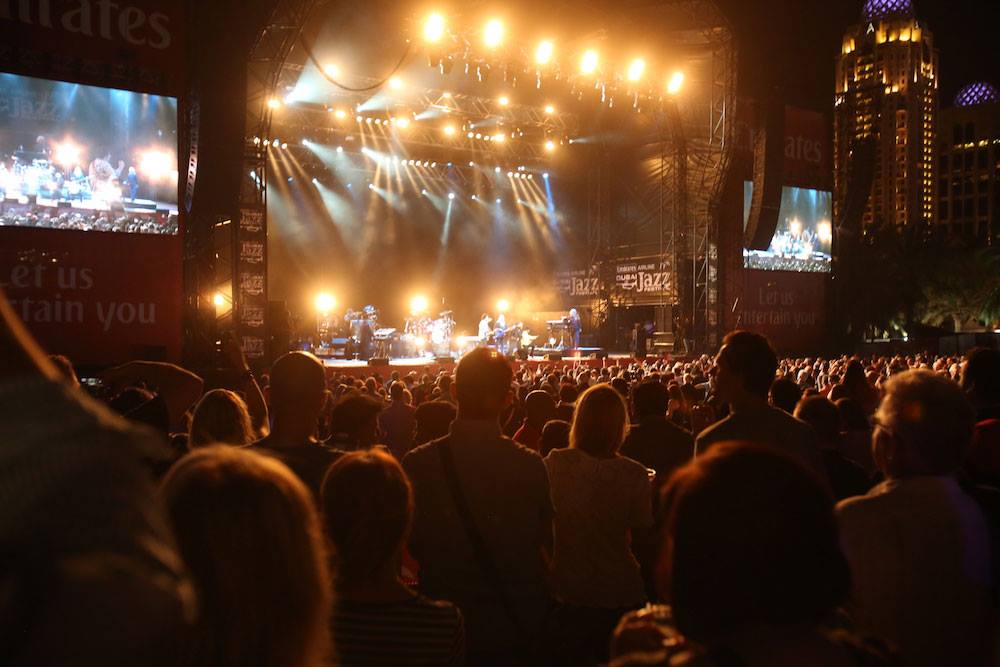 Photograph credit: Emirates Airline Dubai Jazz Festival
Ticket pricing for everyone's budget
You won't have to shell out a fortune to attend Emirates Airline Dubai Jazz Festival. They've got four ticket categories suitable for everyone's budget, as well as festival passes for hard-core fans. First off, the Regular category in the upper section of Dubai Media City Amphitheatre offers the most affordable tickets, available for Dhs 350 for one day and Dhs 850 for festival pass. Next up, the Golden Circle category offers the nearest views of the stage and headliners, costing Dhs 550 for one day and Dhs 1350 for festival pass. The venue has got a massive lounge too, with one day tickets costing Dhs 750 and festival pass costing Dhs 1,800. Lastly, if you're a high roller, you can opt for the VIP tickets, which will cost you Dhs 1,250 for one day and Dhs 3,000 for a festival pass.

Photograph credit: Emirates Airline Dubai Jazz Festival
Ripe market
As part of a concerted effort to promote local SME businesses, the Emirates Airline Jazz Dubai Festival is bringing a pop up ripe market to the venue. The market will be host to an array of artisanal products, handcrafted items and fresh local food produces. It's got an entirely chilled out vibe and festival goers can also opt to relax under the trees and enjoy the music.

Photograph credit: Emirates Airline Dubai Jazz Festival
Best time of the year to attend a festival
With weather forecasts at low 20s throughout the month, it's the perfect weather to enjoy the three day festival at Dubai Media City Amphitheatre. We suggest you make the most of our beautiful outdoors before summer kicks in!


Photograph credit: Emirates Airline Dubai Jazz Festival