While Dubai's culinary scene is expanding to experiential and diverse offerings, restaurants offering the Levant and Middle Eastern cuisine, dominate the market. The Alfeniq Restaurant & Café is a great place for seeking this traditional food in a relaxed ambiance.
Location and convenience
Situated in Barsha Heights, Alfeniq Restaurant & Café is a turn away from First Al Khail Street. The best route would be… Sheikh Zayed Road or Al Khail Road, Hessa Street exit and then turn towards First Al Khail road (JLT bound); the restaurant is on the right. Free parking available too. Click here for the map.
Fresh salads and soup for starters
On a typical sunny afternoon when we entered the restaurant, we were greeted with a warm welcome by the servers and guided to our table. The friendly servers offered us freshly squeezed juices and talked us through some of their signature dishes.
Our lunch began with 'Shorbat Adas', a warm lentil soup (Dhs 17), with crispy toasted pita bread. It was a nice, lite way to start lunch.
Next up, we tasted two of the most beloved Arabic salads: Fattoush and Tabbouleh. The Fattoush (Dhs 20) was a fresh mix of Romaine lettuce, cucumber, tomatoes, spring onions and mint leaves diced to perfection, with lemon extract and pomegranate sauce. Whereas, the Tabbouleh (Dhs 20), was fully loaded with freshness, thanks to the wide assortment of fresh leaves, herbs, mint leaves and parsley.
Photograph credit: Alfeniq Restaurant & Café
A piece of Lebanon in Alfeniq's hummus kuboos
It goes without saying, Lebanese cuisine is incomplete without hummus kuboos (Dhs 24)! Before moving on to the main course, we decided to taste their style of the iconic dish. The soft textures, creamy hummus was garnished with pine nuts and minced lamb. The hummus was rich in taste, with a perfect blend of tahini and chickpeas, and the aromatic lamb made the dish even better. Also, bonus points for the bread, served hot!
Photograph credit: Alfeniq Restaurant & Café
Flavoursome traditional preparations
For the mains, we opted for a mixed grill, and lamb over rice. The mixed grill (Dhs 55) cooked with a range of spices, and served along with garlic sauce and mouajanat was by far the tastiest meal in our experience, thanks to the variety of chicken and lamb included. The lamb over rice (Dhs 42) was quite heavy, as they served big chunks of lamb with thick and short-grained Arborio rice. The portions served are ideal for two.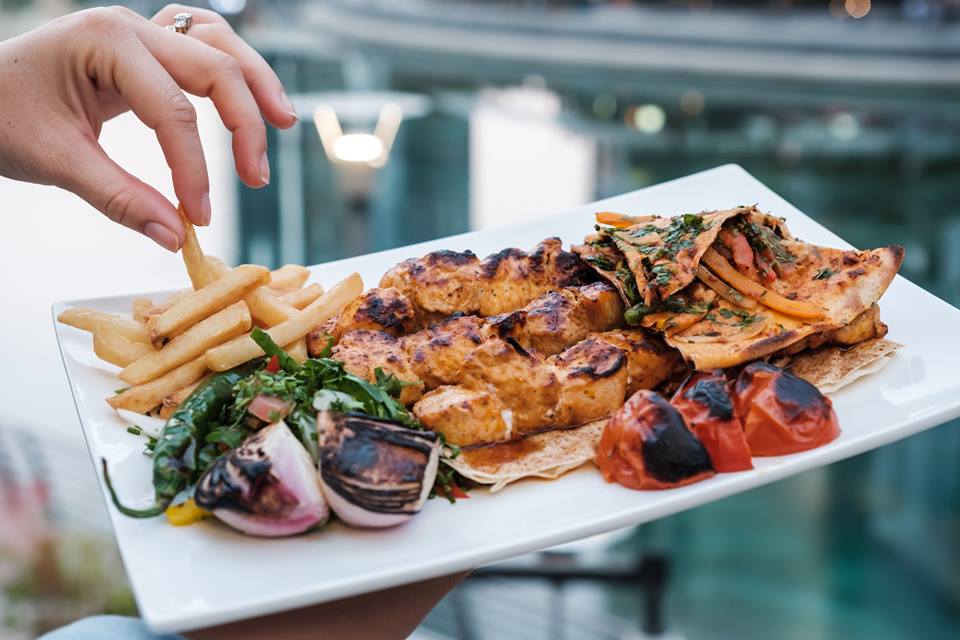 Photograph credit: Alfeniq Restaurant & Café
Muhalabieh a delectable dessert for those with a sweet tooth
Be forewarned! Save some space for desserts. We decided to indulge ourselves with a small serving of Muhalabieh (Dhs 12). The rice pudding was perfectly infused with rose water and milk, topped with crushed pistachios.
Our top picks:
-Mixed grill (Dhs 55)
-Fattoush salad (Dhs 20)
-Muhalabieh (Dhs 12)
Average cost: Dhs 150 for two people
Alfeniq Restaurant & Café is open daily from 11-2 am. For reservations, call 04 5139926.