Look away now if the sight of blood makes you a little faint, as an incredible set of doctors in Sharjah have removed a basketball-sized tumour from a patient.
That's right, a tumour that's literally the size of a basketball.
Wow. And also. Yuck!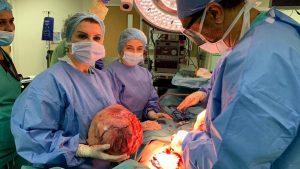 The 6kg tumour was removed from a young woman's uterus in Sharjah. And not only did the intense surgery save her life, it also protected her fertility meaning she's able to have children later in life.
The Arab woman had suffered pain and swelling for the past five years. A series of radiological tests quickly pinpointed the issue and doctors at the University Hospital of Sharjah started making a plan to remove it safely.
Thankfully, the tumour wasn't malignant or cancerous. And a team of Doctors, lead by Prof Mohamed Zayed, removed the tumour.
Incredibly, the woman was discharged just two days later after making a full recovery.
We don't imagine she'll be playing any basketball any time soon, however.
Keep up to date with the latest news with our DubaiLAD page here.