Sheikh Hamdan's flagship initiative, Dubai Fitness Challenge is back again and this year, you're invited to be part of a massive world record attempt!
World record attempt at Dubai Fitness Challenge
UK's famed lifestyle guru and fitness Instagram star Joe Wicks is heading to Dubai for the world's largest high-intensity interval training (HIIT) at Skydive Dubai. The event is open to adults aged 18 and above, and kicks off from 7 am on Saturday, 26th October. Online registrations are currently open via Platinumlist for over 18's.
Attendees need to have a basic level of fitness
Participants need to have a basic level of fitness to be part of the world record attempt which will involve moderately intense exercise. The event kicks off with a 30-minute non-stop workout with Joe, featuring a series of intense and high-octane exercises, alternated with short recovery breaks.
Photograph credit: Dubai Fitness Challenge
Public transportation advised
With thousands of people descending upon Skydive Dubai, organizers advise taking the metro, bus or tram to reach the location. Parking is limited and will be available on a first-come-first-serve basis. Attendees can also avail a 25% discount by using ride-hailing services Uber and Careem, Insert the code: PL19OZ8G5AE470AG
Are you taking the Dubai Fitness Challenge?
Unless you're in the know, the month-long fitness initiative challenges UAE residents to perform 30 minutes of workout daily for a month, be it playing a sport, or sweating it out at the gym, practicing yoga or even just walking. You can track your daily activity on your smartphone and update it on the app.
They have a slew of events happening on weekends which you can check out on their Facebook page here.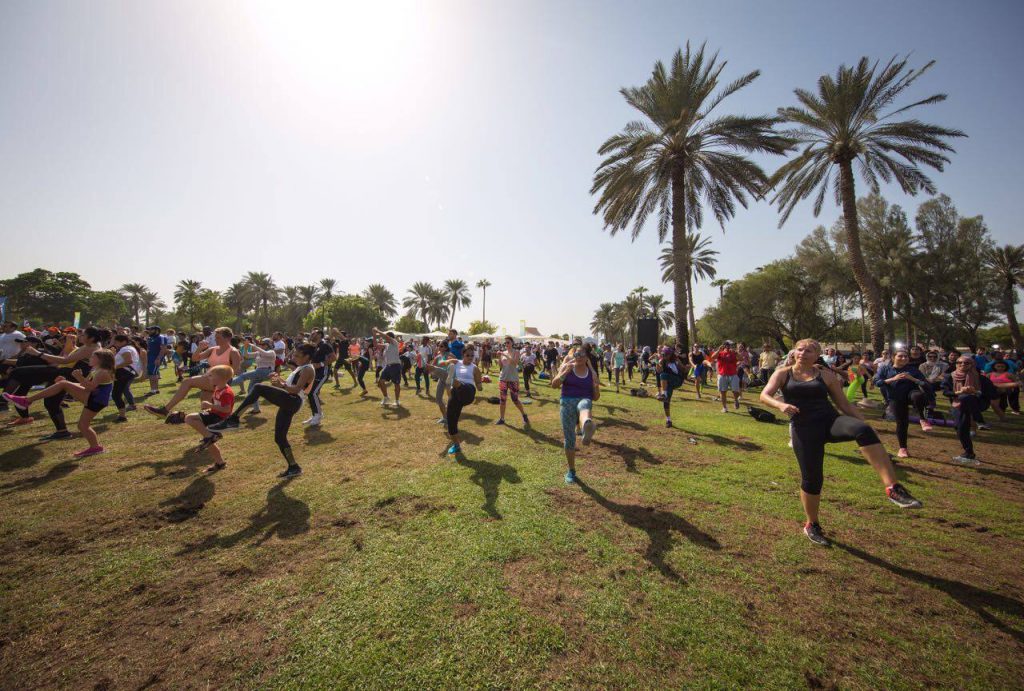 1 million residents took part in Dubai Fitness Challenge last year
Last year saw a staggering one million residents take the challenge and witnessed 92% of the participants achieve the target of exercising for half an hour daily. This year's challenge started on 18th October and will end on 16th November.