Architectural wonder Sheikh Zayed Grand Mosque has once again retained its ranking among the top five landmarks for tourists while Burj Khalifa had made it to the top 25 spots by travel site Tripadvisor.
Sheikh Zayed Grand Mosque was ranked the third best spot
More than 750 tourist spots were recognized for the TripAdvisor Travellers' Choice Award this year and its rankings were determined using an algorithm which gathers reviews of the shortlisted places. Sheikh Zayed Grand Mosque was ranked third, one rank down after being second last year and the year before.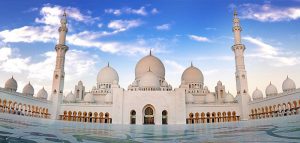 Burj Khalifa jumped three spots to 19th
World's tallest skyscraper and Dubai's pride, Burj Khalifa was ranked 22nd consecutively in 2016 and 2017. This year, they've jumped three spots to the 19th rank, surpassing iconic tourist landmarks like Sydney Opera House(19th) and Santuario Historico de Machu Picchu, Peru(20th). Currently, Burj Khalifa is projecting a live scorecard of matches during the FIFA World Cup.
Cambodia was ranked 1st
Siem Reap's Angkor Wat Temple, which is the world's largest religious monument and is recognized as a 'World Heritage Site' by UNESCO, was ranked first for the TripAdvisor Travellers' Choice Awards, followed by Plaza de Espana, Seville in Spain. The tourist attraction is also recognized as World Heritage Site by UNESCO, known for its historical architecture. Fun fact, it was one of the locations for the shooting of the Star Wars prequel film 'Star Wars Episode 2: Attack of the Clones'.