Keep calm Brit football fans, there's a warning issued by the British Embassy in UAE ahead of the FIFA World Cup semi-final between England and Croatia.
Warning was issued to respect local laws
Making it to the semi-finals is a big deal to any country especially at a tournament like FIFA World Cup, the most anticipated sporting event of this year. However, the British Embassy in UAE made an announcement about celebrations, warning Brits to respect the rule. They said, "Wherever you're enjoying the football, ensure that you are aware of and respecting the local laws and customs."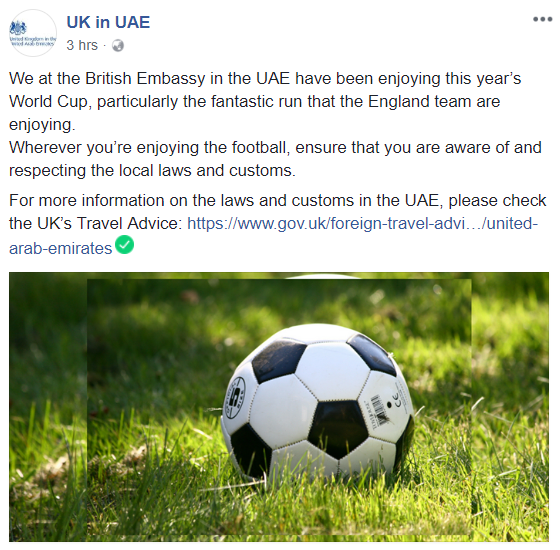 England made into semis after 28 years
During this FIFA World Cup, England has had a phenomenal run with six points in the group stages, coming second to Belgium with nine points. They defeated Croatia in the Round of 16 in the penalties and defeated Sweden 2-0 in the Quarter Finals, thanks to performances by Harry Kane(six goals) and John Stones(two goals). It's the first time in 28 years that England has qualified for the semi-finals. In the 1990 World Cup, England managed to tie 1-1 against West Germany but lost in the penalties. West Germany went on to win the World Cup, defeating Argentina 1-0.
Quarter Finals celebrations went extreme last match
Sweden lost to England last Saturday in the quarterfinals and celebrations went to the extreme when a Brit football fanatic bared it all to celebrate the victory at a pub. A video was circulated across WhatsApp showing the fan celebrate at the club and according to Gulf News, he has flown back home to avoid prosecution.
Last year a warning was issued during Christmas
Prior to the Christmas season last year, the British Embassy warned the 100,000+ strong Brit expat population to respect the country's laws while celebrating the festival. The warning came with a stop motion animation video clip showing how UAE has stricter responses to violations than the rest of the world.