No matter how much you support your favourite team this FIFA World Cup, nothing matches what this insane fan has done at his house to show his unequalled support for Argentina.
Prior to World Cup, he painted his house in Argentina's jersey colours
By house, it's not just an apartment or a room, but this fan's house is a legit building with two storeys! Shib Shankar Patra, the dedicated fan, has been a fan of Argentina since the 1986 World Cup, which Argentina won and claims to be a die-hard fan of Diego Maradona, who captained the victorious team. At his house, he's painted the walls in Argentina's jersey colours and each room has life-sized posters of Lionel Messi.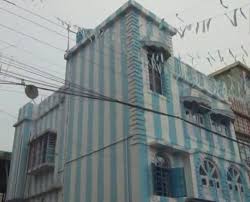 Working as a tea seller, Patra managed to save only 60,000 rupees(Dhs 3,259) and wasn't enough to fulfil his wish to watch the World Cup. Yet, it didn't stop him from showing his love for the sport, who then painted his building. In an interview with AFP, he said "I had saved 60,000 rupees ($890) but it was not enough for the trip. I will now watch Argentina's games on TV and cheer for my favourite footballers."
Messi's birthday is coming and Patra is planning something big
Happening on June 24th, the Argentine football star turns 31 and Patra is planning to celebrate it with a big bash at his building, by cutting a cake and distributing Argentina's jersey to children. He also finds Messi an "extension of Maradona" and admires his "behaviour". To show his support, Patra will also pray daily, he said "I will be praying every day for Argentina's success. Nothing gives me more happiness than seeing them win on the field."
Patra isn't the only one to show such support
Besides Patra, another dedicated football fan in the Indian state of Kerala painted his house and his cars in the colours of Brazil's jersey colours`. The fan, who prefers to be known as 'Brazil Sudheer', has in fact been painting his cars since the last four World Cup and this time, he decided to paint his home too because he wanted to give it a new makeover.