You're in for an exciting nostalgic journey at the newly opened chill spot, The House Party Bar, which has got everything inspired by the retro '90s era.
Look out for the OG arcade games and space hoppers!
By the looks of the décor, they're totally Instagram material! They've got bedrooms themed as to what households were like in the '90s-be it Britney Spears' posters on the wall, MSN messenger on your computer desktop, VHS tapes next to your television sets or a Nintendo 64 console, they've got it all on board! You can either sit on a sofa, bed or even a toilet(for reals!).
You'll be thrilled by its menu puns!
If you grew up in the '90s, the dishes names are going to leave you amused for its pop culture references! They've got a burger named after Back To The Future, named 'The Marty McFly 'Chichen Burger', a dessert named 'American Pie' and a pizza named 'Nothing but a cheese thang.' Also, they've got spirits named over iconic stars during that era, like Jean Claude Van Damme and Samuel L Jackon. The best part, they named a pint as 'Brad Pittcher!'
Promotions are going on this World Cup
During the FIFA World Cup, which goes on till July 15th, they've got plenty of offers going on, starting from draught pint costing 25 dhs. They've got two combo offers going on, serving a burger with pint for 75 dhs and serving pizza with pint for 85 dhs. Besides, they have happy hours going on every night from 6-9pm, serving five bottles of pint for 150 dhs, house drinks for 35 dhs and a one-litre pitcher for 85 dhs.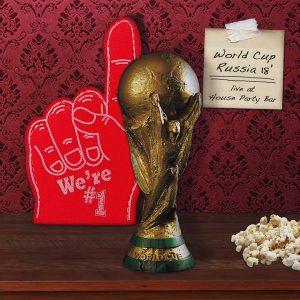 Film screenings will be going on after the World Cup
Once the FIFA World Cup season is over, they're tuning their huge TV screens into a pop culture fiesta, screening cult films such as Clueless and Home Alone-and this is just the start! Plus, the ambience at The House Party Bar is so homely that they even deliver pizzas and snacks in the typical '90s pizza box.
Fairmont Dubai is home to the bar
Remember the nightmares of neighbours shutting down your high school parties? Worry no more. Being noisy neighbours will never be a problem here. The retro bar will be playing all the '90s hits, from NSYNC to Nirvana to Michael Jackson and what not. You can find the entry to the bar via the entrance of its neighbour, Cirque Du Soleil at Fairmont Dubai on Sheikh Zayed Road.
The House Party Bar is open from 6 pm to 3 am from on Mondays, Thursdays and Fridays and is open from 6am-2am on Sundays, Tuesdays and Wednesdays. No dress codes. For more information, you can follow them on Instagram and Facebook, @thehousepartybar.