Bloggers and influencers have come into a lot of trouble in recent times for having heavy demands for freebies and Samer Hamadeh, a restaurant owner at Dubai Design District(D3) had a clever response to a demand by a blogger.
Hadeh had invites open to bloggers
Japanese restaurant Akiba Dori is a new restaurant opened this year and they were open to reviews by media outlets and influencers. They had a set menu for bloggers invited with a +1 and they have to come at specific times. Hamadeh offered the same invite to the blogger, who refused the invite, demanding from him.

Blogger demanded six invites
Good golly! Big ups to the blogger to have the guts to demand six invites for the review and not only that, the blogger refused to come at 'specific times', wanting to come on a Friday night. Hamadeh made a sensible response saying it would be "bad for business" since it's on a "busy weekend". He again made it clear that the invite is for two.

You'll be startled with the threat!
Much to Hamadeh's disagreement, the blogger boasted saying no restaurant has ever limited them and followed it by posing a threat, asking him to reconsider his decision because one review by them will make sure no blogger will ever visit his restaurant. Then came Hamadeh's bold response, "I look forward to reading it."
Many businesses are banning influencers and bloggers
Bloggers and influencers have increased so immensely across the world to the extent to which businesses are challenged to determine the credibility and how valuable they are, while some businesses have banned them from entering. The ban created news this January when a hotel in Ireland named 'The White Moose Cafe' posted a screenshot of a message by an influencer, demanding for a free four-night stay at their hotel during the Valentines Day week in return for coverage and shoutouts. The hotel announced the ban with a realistic explanation questioning who's going to pay for their operations.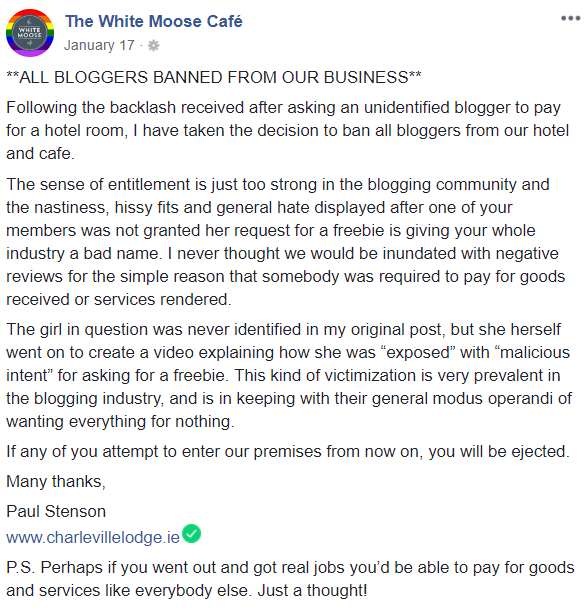 UAE has made influencer licences mandatory recently
Due to the unregulated growth of bloggers and influencers earning profits without any business license, a UAE cabinet meeting in March announced that influencers are required to attain a trade license and an e-media license, costing Dhs 30,000 total. Also, it was clarified that whenever a post is sponsored, it has to be mentioned in the post. Failure to attain the license and to mention the sponsor can lead to hefty fines.