Football icon Cristiano Ronaldo's stint with Real Madrid has come to an end after nine years and it's official that he's moved to an Italian team to play in Serie A.
Juventus is Ronaldo's new team
Yesterday, Juventus Football Club announced Cristiano Ronaldo as their latest player to join their team, offering a whopping amount of €112.2 million(Dhs 483.3 million), compared to earning €21 million this year with Real Madrid while Leo Messi was earning €40 million and Neymar earned €36.8 million. Many sports news outlets in Italy are calling this transfer the 'deal of the century.'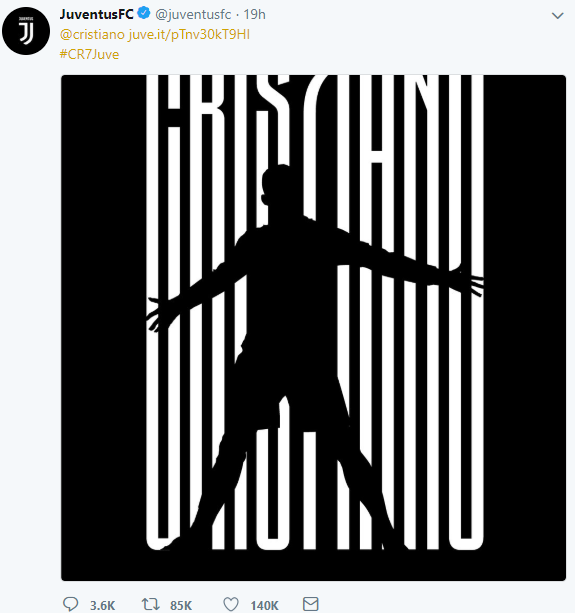 Mark the date: 5h August 2018
Next month will witness an epic clash as Juventus, also known as 'The Old Lady' will play against Ronaldo's former team, Real Madrid at the International Champions Cup in the US. Numerous football fans would have their fingers crossed hoping that Ronaldo plays the match and what the output be. The last time the teams faced each other was during the Champions League in April when Juventus won 3-1. Fun fact, the only goal scored by Real Madrid was Ronaldo.
Manchester United rejected Ronaldo
Cristiano Ronaldo made it big in the football scene when Manchester United purchased him for £12.24 million(Dhs 59 million) in 2003. During his stint, Manchester United won nine titles till 2009 when he moved to Real Madrid. This year, Manchester United rejected to re-sign Ronaldo and were instead interested in recruiting Gareth Bale.
Real Madrid won four titles with Ronaldo
When the Portuguese star was purchased by Real Madrid for £80 million(Dhs 389 million), the team enjoyed tremendous success winning 16 trophies within nine years. Here's the breakdown, they won four Champions League titles, three UEFA Super Cups, three FIFA Club World Cups, two La Liga titles, two Copas Del Rey titles and two Supercopa De España titles. What's more, Ronaldo won the prestigious Ballon d'Or Award four times(and once while he was playing for Real Madrid).
Ronaldo's transfer is the most expensive one
Being a successful team has come with a great deal of expenditure on players. Before signing in Ronaldo for €112.2 million, Gonzalo Higuain had the most expensive transfer, offering him €90 million in 2016. Since then, the Argentinian Striker scored 55 goals in 105 games and won two Serie A titles and two Coppa Italia titles.
No stopping for Juventus
Since 2011, Juventus set the benchmark in Italian Club Football as the most successful team, winning back to back Serie A titles since 2011. Their history speaks volumes since as they're leading the Serie A tournament by a huge margin, with 34 titles, followed by AC Milan which has 18 titles.