In a real-life Shawshank Redemption plot, a death row inmate tunneled through waste pipes and sewage to escape from prison in Jakarta.
The Chinese drug trafficker Cai Changpan was facing a death sentence for methamphetamine smuggling.
But he hatched a plan over 6 months in jail to dig himself out.
He used tools stolen from his work in the prison kitchen to tunnel through the sewage system and into the outside world. Where he presumably had a change of clothes and a shower waiting for him.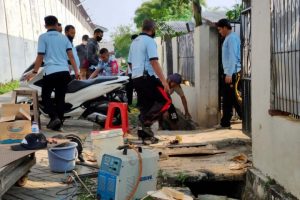 Incredibly, Cai has previous when it comes to escaping. Back in 2017, he broke out of a police detention centre by breaking a hole in the bathroom wall.
The death row drug-trafficker is now on the 'Most Wanted' list. And if we were in charge, we'd probably get sniffer dogs to follow the sewage trail smell.
Pablo's drug cash
Staying in the criminal world, $18m was found stuffed in a wall in Pablo Escobar's house.
The stash was found by his nephew Nicolás Escobar who has lived in Pablo Escobar's house for the last 5 years.
Amazingly, a 'vision' told Nicolás where to search for money in the apartment where he lives in Medellín. The only visions DubaiLAD get are of us eating hummus and shwarma way after our bedtime.
So you see, it always pays to check how much money is down the back of the sofa. Or stuffed into a plastic bag in a wall, in this case.