From the results of the 'Happiness Meter' by Smart Dubai, DEWA leads the catergory for 'Top 3 large departments' with a score of 83.79%, followed by Dubai Police(81.74%) and Dubai Muncipality(80.77%).
Image credit: Dubai Happinness Agenda
KHDA leads the rankings for the medium sized government departments.
Leading the category with 88.13%, the Knowledge and Human Development Authority has witnessed immense success in maintaining the progress of education among private schools and universities in Dubai. Currently, students of 183 nationalities are studying in Dubai. Their ranking is followed by Dubai Courts and Department of Land and Property
AAFAQ Islamic Finance leads the rankings for private companies.
Not just leading, but the overall happinness score for this financial organization is an overwhelming 97.8%, ahead of rest of the companies and Dubai entities. Their focus is to discover opportunities in business sectors to achieve high returns to shareholders. They also have strategic partnerships but Dubai government departments such as the Ministry of Labour, Ministry of Finance and DMCC. Whereas, Arab Bank for Investment and Foreign Trade(97.7%) and Al Jaber Optics(96.6%) rank second and third respectively.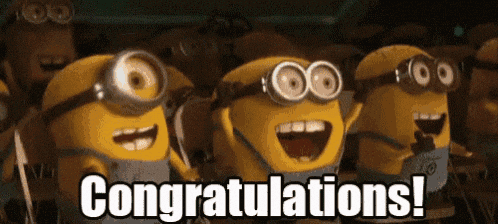 Gif credit: Giphy
It's an initiative by Smart Dubai.
Thanks to Smart Dubai, they're the team behind projects like smart pedestrian crossing implemented across 15 streets, Smart Dubai Index and Dubai Blockchain. Their vision is to make Dubai the happiest city on Earth and by 2021, Smart Dubai is working towards increasing the city's happinness score by 95%.