Argentine football legend Diego Maradona has never seemed so excited in Argentina vs Nigeria match since the '86 World Cup but his celebrations have landed him into deep trouble.
Celebrations turned into a near collapse
Right after the second goal scored by Marcos Rojo put Argentina winning ways in the 86th minute, the football legend burst into excitement and his celebrations went too berzerk to the extent to which he nearly collapsed. He was taken to a hospital where he received medical treatment. The update is that he's "fine" now but it's doubtful whether will he continue to attend and support Argentina in the future matches.
Decompensation was the likely reason for collapse
Just like any hardcore fan, even Maradona didn't want to leave from his executive box despite of him suffering "decompensation." In the Instagram post, he said "I want to tell everyone that I am fine, that I am not, neither was I interned. In the halftime of the game against Nigeria, my neck hurt a lot and I suffered a decompensation. I was checked by a doctor and he recommended me to go home before the second half, but I wanted to stay because we were risking it all. How could I leave? I send a kiss to everyone, thanks for the support!"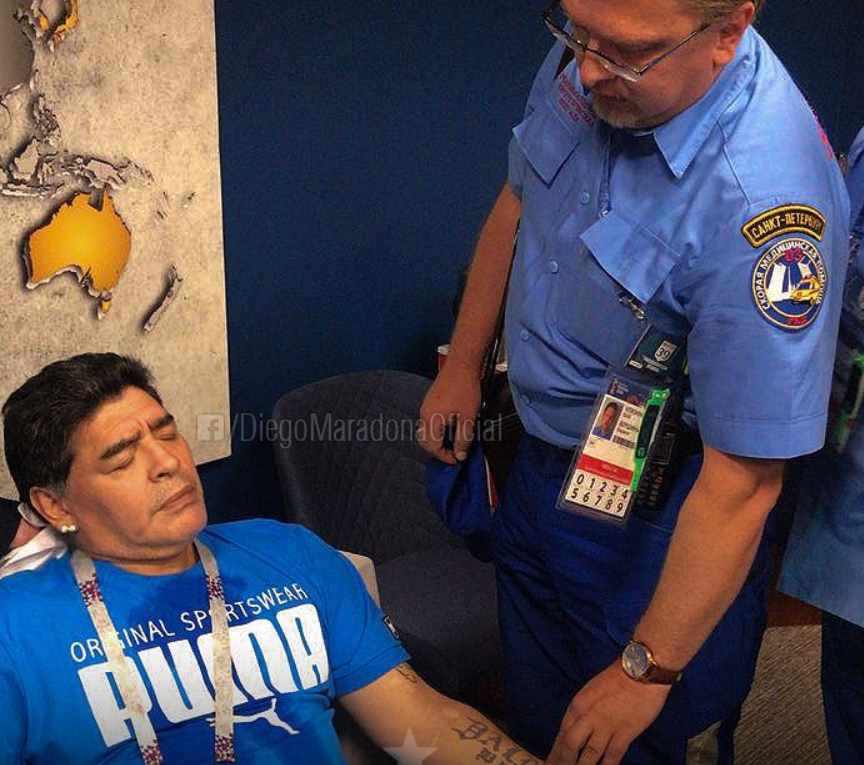 Maradona has been no stranger to controversies
Since the infamous 'Hand of God' controversy in the '86 World Cup against England, the Argentine legend has had a big deal of controversies that have got him into deep trouble. In 1991, he faced a 15 months suspension for testing positive in a drug test while he was playing for Napoli. After three years in 1994, he faced a 15 months suspension again for testing positive in a drug test, due to which he missed the '94 World Cup.
Argentina has made it into the round of 16
Football fans were shocked by Argentina's performance at the World Cup, especially after losing 0-3 to Croatia. Thanks to Leo Messi's goal in the 14th minute and Rojo's goal in the 86th minute, they finish second in the pool D after Croatia, managing to top over Argentina by just one point. In the last World Cup, they finished as runners-up.