So far, this week has witnessed a big deal of dust and haze across the country and it's likely to continue till the end of this week.
Projected temperatures at the high 30s
For the remainder of this week, temperatures are projected at the higher 30s, ranging between 38-41° Celsius, according to weather forecast website Weather.com. Humidity is expected to range between 43-54% and Saturday is expected to witness more cloudiness. The following week, however, is expected to touch 40°.
Wind speeds are likely to touch 30 km/h
Caution drivers! You may want to drive slowly this week and follow the two-second rule because according to the National Centre of Meteorology, wind speeds are expected to range between 20-30 km/h, reaching up to 45 km/h(on Friday) with clouds causing dust and haze. Dubai Police tweeted a multi-car accident on the road from Maktoum Bridge toward Sheikh Zayed Road, warning drivers to drive carefully and use alternative routes.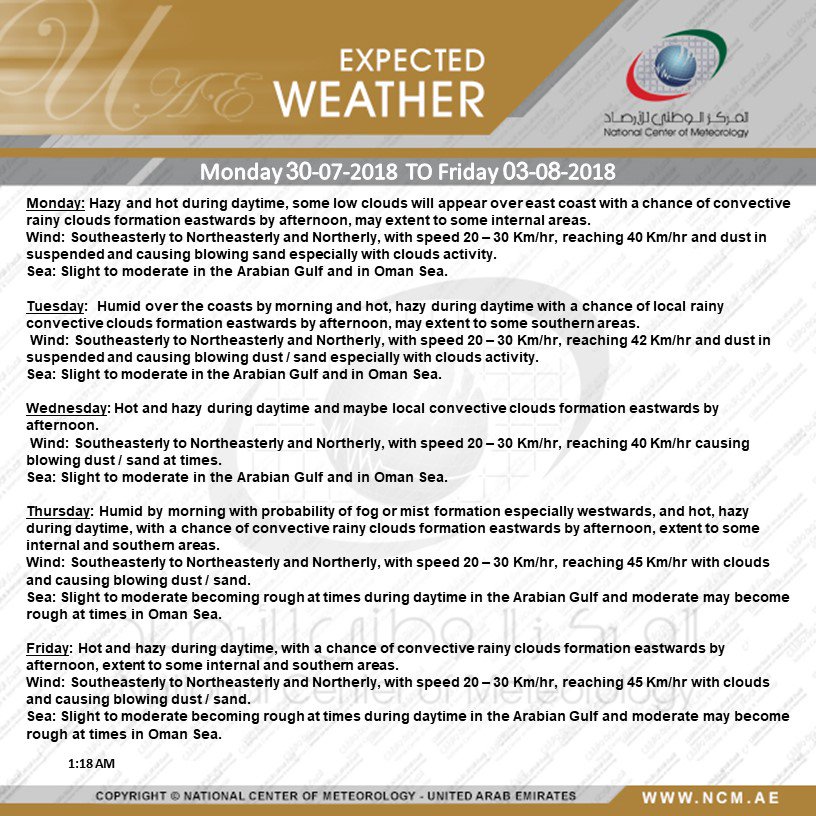 Brace yourselves for rainy clouds!
Yep, that's right! The National Center of Meteorology is expecting chances of "convective rainy clouds" in the eastern and southern region at afternoons throughout this week except on Wednesday. The last time UAE witnessed rains were on July 7th, when residents woke up to a surprise storm, leading to rains. Dubai witnessed rains in areas like Mirdiff, Rashidiya and International City.
Jebel Jais recorded the lowest temperature
While residents are facing the heat of up to 47° this summer, UAE's favourite road trip spot; Jebel Jais recorded the lowest temperature in UAE, at 26° Celcius at 5:30 am. Plus, Al Ain's famous road trip spot, Jebel Hafeet recorded temperatures were mountains, including Mebreh mountain in Ras Al Khaimah recording 26.7° and Al Heben mountain recording 30.6°.