Made of upto 100,000 flowers, the Dubai Miracle Garden achieved a world record for the biggest floral structure of Disney's Mickey Mouse, adding to the Garden's third Guiness World Record.
It stands as tall as 18 meters.
Giving the iconic Disney character a larger than life look, the Mickey Mouse structure is 18 meters tall made of flowers and is supported by a steel structure weighing seven tonnes. Additionally, the structure weighs 35 pounds.
The statue is released as part of Mickey Mouse's 90th birthday celebrations.
Beyond a cartoon character and the mascot of The Walt Disney Company, Mickey Mouse has a legacy of its own. It was the first character created by Walt Disney initially named as Oswald The Lucky Rabbit in 1928. Mickey Mouse has since appeared in more than 130 films has its own star at the Hollywood Walk of Fame.
Dubai Miracle Garden also holds the world record for the largest floral installation.
Carrying more than 90 tons of fauna, Dubai Miracle Garden were awarded a Guiness World Record for the largest floral installation of an Emirates A380 airplane. The structure has a height of 24 meters. It took nearly half a year to complete the project whilst it took four months to harvest the plants at its nurseries.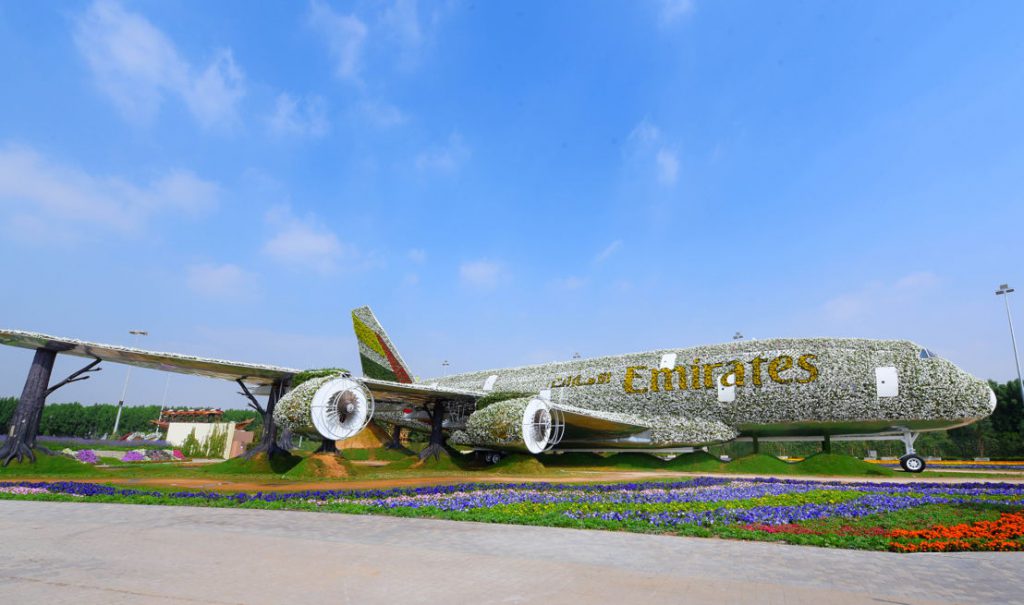 Dubai Miracle Garden is a world record holder for the largest flower wall too.
With a circumference of 1 kilometer, Dubai Miracle Garden was awarded its first Guiness World Record for the largest flower wall at the time of its opening on Valentines Day in 2013.
Lastly, Dubai Miracle Garden is open throughout the week, from 9am-9pm on weekdays and 91m-11pm on weekends. A regular admission ticket costs 45 dhs for ages 12 and abovie and 35 dhs for ages 3-12.