Two robbers stealing money from a Bentley vehicle were caught as Dubai Police tracked their vehicle to the destination they intended to hand the money.
Dhs 1.5 million were robbed
Situated in a residential area in Abu Dhabi, the Bentley vehicle was unlocked and the area was empty till the robbers robbed the briefcase containing all the money. They drove to Al Wasl in Jumeirah till Dubai Police stopped them.
Catching the robbers took 12 minutes
Once reported, Dubai Police identified the robbers' vehicle, Nissan Pathfinder and tracked them driving on the Sheikh Zayed Road. Once the robbers turned towards Al Wasl street, the Dubai Police car trailed them to ending location, catching both the robbers and the receivers of the money.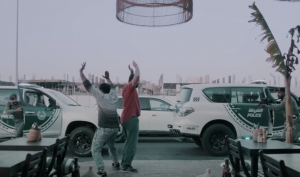 Dubai Police recovered Dhs 7 million in April
Last week, ten members of a gang were caught committing a fraud worth of Dhs 7 million, convincing two brothers to buy a bitcoin and leading them into a trap. Dubai Police identified the gang within two days, arresting them and recovering the money. The fraud took place in Deira.
Public are now allowed to report online crimes
Through an online portal by Dubai Police, residents and citizens can report illegal internet calls and cyber bullying. This crime also includes insulting against the country or an entity. Earlier this year, an expatriate was slapped with a fine of Dhs 500,000 with three months in jail for speaking against Dubai's RTA (Roads and Transport Authority).
#DubaiPolice launches "https://t.co/iFM1PupegD" to tackle cybercrime

Details:https://t.co/YwA78qy3DY#News#YourSecurityOurHappiness #SmartSecureTogether pic.twitter.com/qQ8q1Mrxk0

— Dubai Policeشرطة دبي (@DubaiPoliceHQ) May 1, 2018