With the winter season approaching and temperatures cool down, we've come up with a rundown of the five best brunches happening in Dubai's epic outdoors.
The Mega Yacht Brunch
Where: Lotus Mega Yacht, Pier 7, Dubai Marina
About: Set sail around the Palm onboard a 600 capacity Mega Yacht and enjoy an unlimited flow of food and beverages, live cooking, rooftop terrace party, on board swimming pool, jacuzzi, indoor dining area and club below deck!  Could it get any more fabulous? Happening every Friday and Saturday, diners looking for an unforgettable Dubai experience can find it right here. The Lotus Mega Yacht is one of the biggest yachts in the region. Diners can brunch with house beverages package for Dhs349 or with premium bubbly for Dhs499.
Timings: 1 pm-5 pm
For reservations: Tickets available on Platinumlist or contact 052 777 6953 for group bookings.
Tropical
Where: Zero Gravity
About: Home to an infinity pool, beach access, tribal music and day-to-night parties, Zero Gravity's Tropical brunch is a must for beachgoers looking to dine and relax by the beach. Diners can expect a tropical-themed brunch with beverage packages, costing Dhs295 for ladies and Dhs345 for gents. VIP packages are available too. The party continues post-brunch with a 2-for-1s deal from 5 pm-8 pm!
Timings: 1 pm-5 pm
For reservations: Contact 055 500 9111 or email info@0-gravity.ae.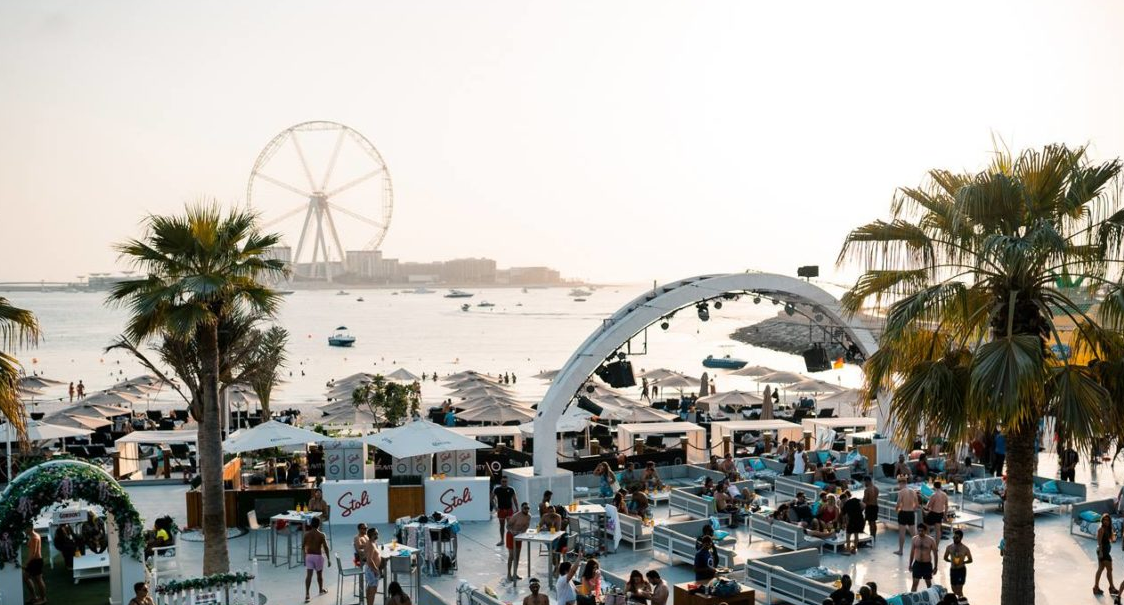 Urban Picnic
Where: 3in1, Vida Downtown
About: With a fusion of Latin and urban cuisine, 3in1's weekly Urban Picnic brunch takes inspiration of a 'picnic' concept wherein diners can relax on the grass situated at their large outdoor terrace and enjoy the contemporary restaurant's culinary offerings in a picnic basket. Diners can also opt for cabanas and pool access available for bookings online free of charge, with views of Burj Khalifa and the Downtown skyline. The brunch comes in two packages, for Dhs295 with soft beverages and Dhs395 with house beverages.
Timings: 1 pm-5 pm
For reservations: Contact 04 888 3444 or email dine@emaar.com.
Ocean Brunch
Where: Moana, Sofitel The Palm
About: When it comes to seafood, Moana's team of chefs are unparalleled at serving a feast with the freshest catch of the day at the Ocean Brunch. The meals are cooked with the Pan-Asian recipes and diners can expect a rich variety of grills, roasts and barbecues. Some of their most exceptional catches of surf food are the Canadian lobster, U5 prawns, Fine de Claire oysters and much more. The brunch costs Dhs370, inclusive of non-alcoholic beverages and beach access. Diners can upgrade the package with premium beverages for an additional Dhs150. What's more, guests can head out to Sofitel's little family-friendly pools and beaches, home to 500 meters of pristine white sand surrounded by palm trees and home to lounges.
Timings: 12:30 pm-3: 30 pm
For reservations: Click here.
Saint Tropez Brunch
Where: Nikki Beach, Pearl Jumeirah
About: Fancy a Mediterranean-styled culinary experience in Dubai? Nikki Beach's Saint Tropez Brunch takes inspiration from its French counterpart, bringing an entire Meditteranean experience in a relaxed atmosphere, near the beach and surrounded with palm trees. The brunch's offerings are a combination of meat, seafood and authentic Mediterranean dishes, followed by dessert favorites cheesecakes and little chocolate pastries. Post-brunch, diners can opt to relax by the beach and catch the sunset, with picturesque views of red and orange skies or take a dip in their split-level pool and chill on the cabanas.
Timings: 1 pm-4 pm
For reservations: Contact 04 376 6000