Luxury air travel giant Emirates is launching the shortest Airbus A380 flight from Dubai to Oman, which is barely 40 minutes.
Shortest A380 flight from Dubai to Muscat
Emirates flew its maiden flight from Dubai to Muscat, covering 349 kms in 41 minutes, at a maximum altitude of 1,900 feet.
That's even quicker than driving from Dubai to Abu Dhabi, or getting to Sharjah via E311 during peak hour congestion!
There will be two flights daily, one at 8:25 am and the second at 4:10 pm. The first return flight from Muscat will depart at 11:15 am and the second departure is at 7:05 pm.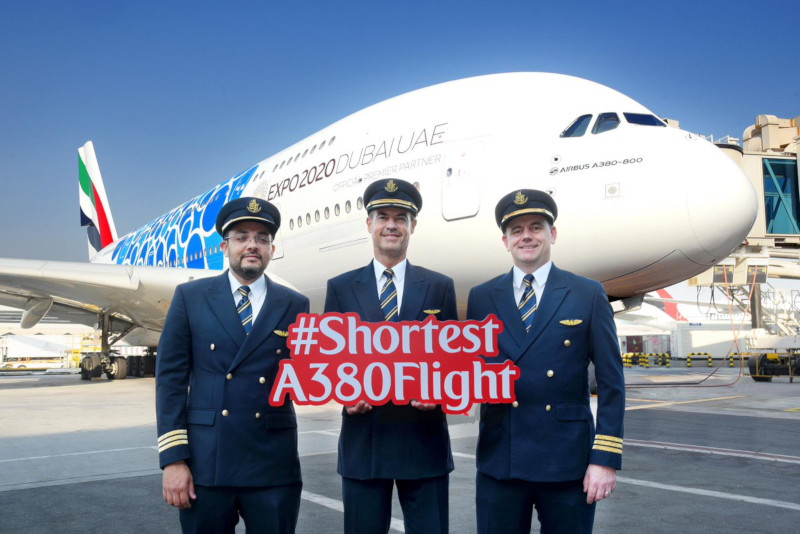 Photograph credit: Emirates
A380 ending production by 2021
Airbus, the aviation pioneers behind the luxurious A380 plane, announced they're ending production by 2021.
Their announcement came just as Emirates Airlines reduced its order by 39 planes. The ultra-luxe airplane is a hotel in itself, boasting shower decks, VIP lounges and Duty-Free shops. It can seat up to 800 passengers.
Emirates longest flight is 17 hours long
On the flip side, the Emirates A380 covers a whopping 14,200 kms non-stop, flying from Dubai to Auckland in 17 hours and five minutes. It's among the longest non-stop flights in the world.
Singapore Airlines claim they operate the longest flight, flying from Singapore to New Jersey covering 15,300km in 19 hours.