Starting 21st February, the Dubai Food Festival is set to serve up a collection of delicacies and culinary experiences across its city-wide festivities for 17 days.

More high-end dining options during Dubai Restaurant Week

Annually, the Dubai Restaurant Week showcases the culinary prowess of various five- and four-stars hotels. 21 high-end eateries are participating in this edition, serving limited-edition three-course meals for Dhs 199 per person. Be it traditional steakhouses, gourmet Thai, authentic Italian or contemporary Indian cuisine, there's a rich variety of cuisines. You can find the restaurant lineup at Reserveout. (https://bit.ly/2Gc1BQV)

Photograph credit: Dubai Food Festival
swyp Beach Canteen fully revamped
Over the years, the Beach Canteen has become ingrained in Dubai Food Festival's culinary landscape as a flagship event. This edition features a revamped design, introducing new food concepts, live entertainment and flavours from around the world available at the Food Piazza. Plus, there will be a beachside theatre, gaming square and a sports court.

Photograph credit: Dubai Food Festival
Discover Dubai's Hidden Gems
Some generation-old restaurants and classic Emirati eateries are too good to be kept secret. Thanks to Dubai Food Festival, they're enabling foodies to discover the authentic tastes and flavours of the city's underground dining scene at Hidden Gems. These eateries are available on Zomato, you can find them on their dedicated page, 'Hidden Gems.'

Photograph credit: Dubai Food Festival
Two new additions to Dubai Food Festival's sixth edition
In a first, Dubai Food Festival is introducing 'Foodie Experience,' wherein foodies can try out a 16-course immersive dinner from sushi, bread-making or Beef Wellington masterclasses. Limited tickets are available via Platinumlist and through the official website. Secondly, the food festival is going to feature a new limited edition coffee option, including unique flavours from local and international brands. You can find the lineup of participating brands on their official website.

More city-wide culinary events
As if the signature events and new introductions aren't enough, Dubai Food Festival has got three more events going on throughout the city. If you're a fan of cheese, head down to The Westin Dubai Mina Seyahi's cheese festival for two days of cheesy goodness. Next up, Galeries Lafayette's Street Food Fair is hosting live food stations and casual bites, with live entertainment at City Walk. Lastly, the Taste of Dubai returns for its 12th edition, boasting a signature lineup of food creations, celebrity chefs and live entertainment at Dubai Media City.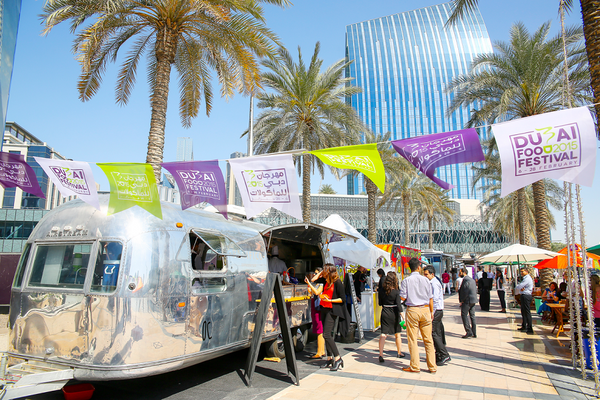 Photograph credit: Dubai Food Festival
Dubai Food Festival's sixth edition kicks off from 21st February. Head to their official website for dates and further information.