Fires broke out this afternoon after at popular tourist spot but the Dubai Civil Defense was quick to reach there are put out the fire.
Fires broke out at Global Village today
Global Village's Chinese pavilion caught fire this afternoon until Dubai Civil Defense's firefighters arrived and put out the fire. A statement by the Dubai Media Office reads "Dubai Civil Defence has responded quickly to a fire that broke out at the Chinese Pavilion in Global Village. Firefighters are working to put out the fire. No injuries have been reported."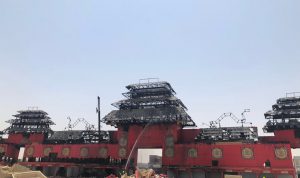 Last time Yemen's pavilion caught fire
Yemen's pavilion caught fire last December on a Tuesday evening and no casualties were reported. Videos from the incident showed two artificial forts caught fire on the entry of the pavilion. The fire caused the Global Village to shut down for an hour and the Dubai Civil Defense team yet again managed to put out the fire in record time.
Dubai Civil Defense recently helped lift a vehicle from a 15m hole
Last week, a viral image circulated around town showing a Mercedes SUV being lifted from a 15 meters-long hole in the Khawaneej area. The injured driver was airlifted to a hospital and the Ruler of Dubai, His Highness Sheikh Mohammed bin Rashid Al Maktoum, too made a visit to the hospital to meet the driver.