Boxing superstar Floyd Mayweather partied at WHITE Dubai last weekend wearing the world's most expensive watch, worth $18 million (Dhs66m).
Mayweather's Paycation
Within three days, Mayweather travelled across three cities before arriving at Dubai, marking the end of his "paycation." According to US Weekly, the multi-billionaire flew to Iceland to upload an Instagram-worthy image at the Blue Lagoons luxury spa, followed by a night out in Paris and a shooting session at Grozni. He claims travelling is what he believes he's best at, saying "Time to do what I do best..explore the world!"
King of bling
Jeweler Jacob&Co were the watch creators, naming it 'The Billionaire Watch.' It's an 18-karat case of white gold set with 260 carats of emerald-cut diamonds. The skeletonized movement and sapphire crystals took the diamond watch game to another level. At the time when he purchased the watch, he said "This my new timepiece, it's called "The Billionaire Watch." If you don't know about it, google Billionaire Watch. That's $18 Million on the price tag."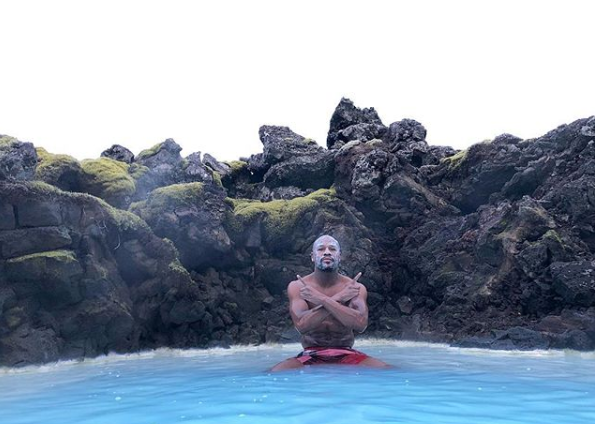 Billionaire lifestyle
Perhaps the biggest baller' of this generation, Mayweather has an insane list of expensive purchases. Starting with his $9 million (Dhs33m) 'Big Boy Mansion,' his custom-made estate with a 22,000 square foot area is home to five bedrooms, seven bathrooms, a two-story theatre and to top it off, an exotic car collection worth $15 million (Dhs55m). Other exorbitant purchases include a $3.5 million (Dhs12m) worth Bugatti Veyron, an engagement ring worth $10 million (Dhs36.7m) for his ex Shantel Jackson and a private jet worth $35 million (Dhs128m). He even purchased a Hublot watch worth $1.1 million (Dhs4 million) from Dubai Mall in 2015.
Nine-figure payday coming up
Last month, Mayweather and Manny Pacquiao agreed on a rematch, after a meeting between the two boxing icons during a concert in Tokyo. Hopes are the 'Fight of the Century' sequel will take place this December as Pacquiao, who serves as a Senator in the Philippines now, will be on a break. Mayweather took to Instagram to announce the rematch, calling it a "9 figure pay day on the way."