Pizza lovers! The new 'Fork It' brunch concept by PizzaExpress Live is the perfect weekend brunch spot with an exceptional variety of pizzas accompanied with live entertainment.
Chill feels all the way!
From the time we entered PizzaExpress Live on a sunny Friday afternoon, we were greeted with sparkling beverages to beat the heat with and were guided to the table. The team of waiters, dressed in casual striped uniform helped us with the menu, guiding through their specialities and offerings at the brunch.
Live entertainment with jazz, oh yeah!
Friday afternoons have never been so joyous than at the brunch. Thanks to the ebullient trio of singers and musicians, they set the tone for the brunch, making the ambience lively and high-spirited. The live performers performed a mix of mainstream like 'Mi Gente' and 'Cheerleader' and a bit of '90s tracks, like 'Gettin' Jiggy Wit' It' and 'The Next Episode'. Not only did they make the crowds sing with them, but got many to groove too!
Countless options from the appetizers
Set against a vibrant backdrop with urban-themed illustrations, there were tables across the area with appetizers. We started with a flavourful cream and mushroom soup, followed by a little of the scrumptious chicken wings, roasted cauliflowers and bread accompanied with a fine selection of cheese. What's more, there was a good deal of dips and sauces to enjoy the appetizers, making them more tasteful.
Best part, an Italian culinary journey!
For the mains, we were taken on a spectacular Italian culinary journey, wherein we were served with a porcini pizza and spaghetti in red sauce(Ps-Instagram material!). The mouthwatering porcini pizza was of a thin-crust base, with mozzarella and slices of veggies around, whilst the spaghetti in red sauce was served with cheeseballs and tiny tomatoes, best when mixed together. The brunch ended with desserts, serving chocolate, butternut and blueberry cheesecake, which were undeniably toothsome!
Plus, there's a lot more happening at PizzaExpress Live!
Moreover, PizzaExpress Live has got plenty of events happening every week. On Wednesdays, they're hosting 'La La Live' jam sessions, open to artists and creative minds for performances and collaborations. Be it stand up comedy, singing, open mic or any form of live entertainment, their stage is all yours! Also, they've got Club Cubano happening every Friday night, with salsa performances and live entertainment.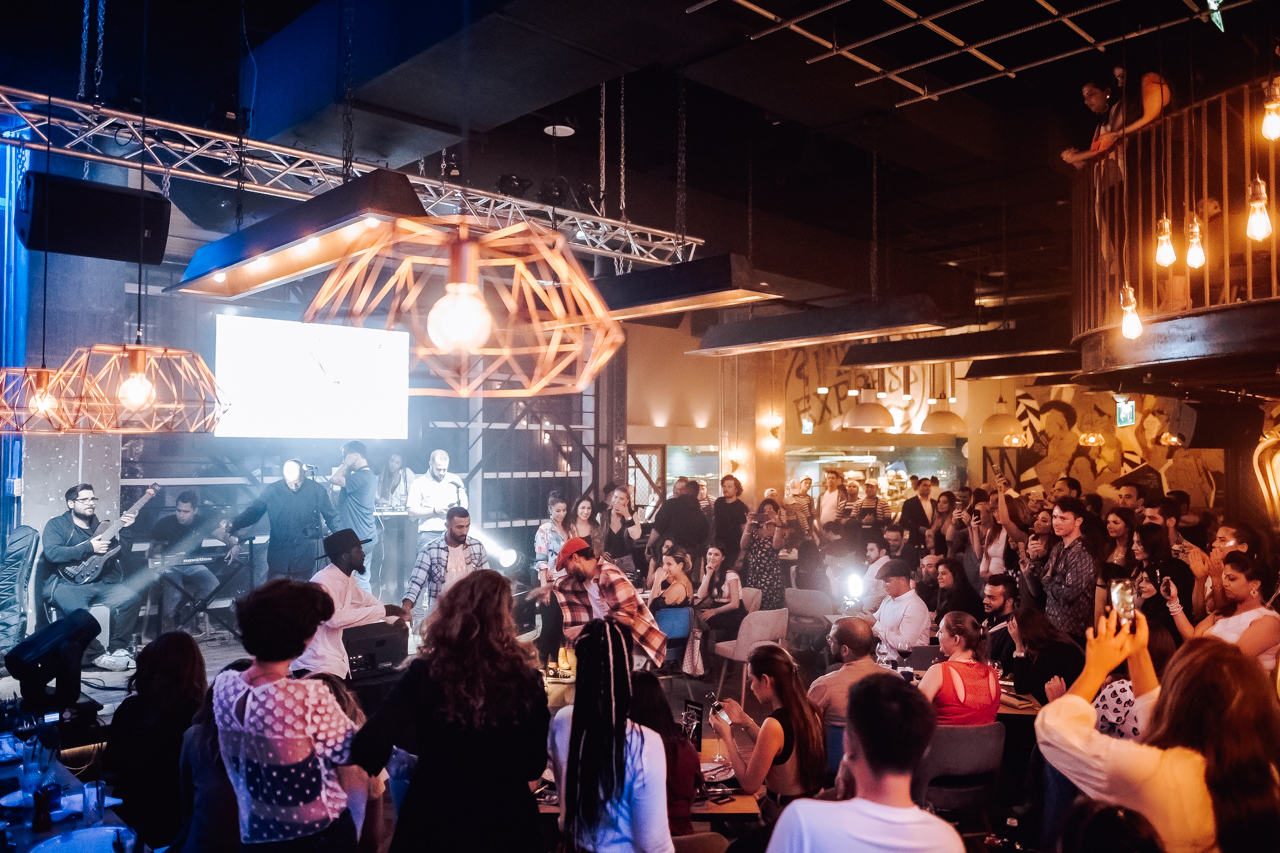 Here are the brunch details
Fork It brunch is happening every week from 1 pm to 5 pm on Fridays at PizzaExpress Live at DoubteTree by Hilton, Business Bay. Here's the breakdown: Brunch with soft drinks is for Dhs 199, brunch with house beverages is for Dhs 299 and brunch with premium beverages is for Dhs 349.