Dubai's toughest obstacle race, du Tough Mudder revealed its latest line-up of obstacles for its third edition, taking place at Hamdan Sports Complex from 7th-8th December.
Six new challenges!
Beware Mudders! The upcoming edition is about to get messier and scrambled up, as the six new additions have got barbed wires to crawl through, a pool of water to dive into, cargo nets to climb above and the scariest part, a suspended water pit in a total blackout! Check out the latest challenges:
Shawshanked: Starting with a barbed wire low crawl, this obstacle ups the ante as Mudders shimmy through a culvert pipe and find themselves perched at the end of a 5' drop into a pool of water below. Falling gracefully isn't really an option, so hold your nose and try not to lose your costume on the way down.
Kiss of Mud Warfare: Similar to Kiss of Mud, but with a twist – literally! It's more disorganized and messier. Strap up, you're going to war.
Giant A-Hole: At over 2 stories high, this is sure to be one of the most impressive obstacles in the course. It is a giant A-shaped cargo net that you and your team will have to scramble up and over.
Devil's Beard: This obstacle will have you crawling on the ground, pinned down by a giant cargo net. Working your way through this one will require lots of communication, teamwork and a strong will.
Walk The Plan: Make your way from the bottom to the top platform, all of which hang over a deep-water pit. Once you're there, all you have to do is drop to the water below, then swim to the exit.
Birth Canal Blackout: Push your way through the suspended water barriers, but this obstacle adds in the element of a total blackout!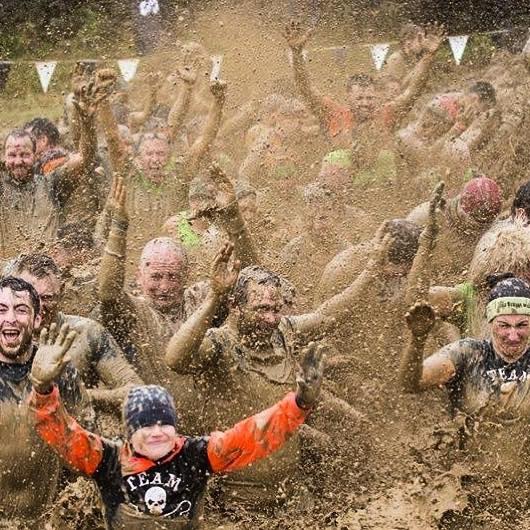 18 challenges returning
Famous challenges like 'Electroshock Therapy,' 'Everest 2,0' and 'Arctic Enema' are back for the third edition, joining the likes of 'Berlin Walls,' 'Skidmarked' and 'The Liberator' open for business. Mudders will be faced with a series of challenges, like pushing, pulling and rolling through barriers, jumping over hurdles, sprinting over wires set at 10,000 volts, sand pits and much more. Check out the returning challenges:
Everest 2.0: this will be the fastest you'll ever summit this mighty mountain, but the fall is just as quick. This slick quarter pipe is over 15' tall, with a recurved top to make it extra hard to get that handhold. You can aim for the top, but there's no promise you won't end up at the bottom!
The BlockNess Monster: Push, pull, and roll your way through 60ft of slick, rotating barriers – this challenge takes teamwork to a whole new level.
Arctic Enema: The favourite icy plunge now includes a high-speed entry slide and centre wall you must scale to escape the 10 tons of ice in this frigid dumpster dive.
Electroshock Therapy: The last hurdle before the finish line, you need to sprint through a field of dangling wires, which are set to jolt you at 10,000 volts. Ready for the challenge? It's du Tough Mudder's way of saying congratulations.
Birth Canal: Crawl and push your way through a gauntlet of sloshing, weighted barriers to find freedom on the other side. With over 100lbs of water resting on your back, this is no time to be a baby.
Pyramid Scheme: It requires a bit of plotting, but unlike its namesake, this obstacle is all about teamwork. Start with a strong base and scramble, climb, and push your way up a slippery incline with the help of your fellow Mudders.
The Liberator: Mudders must scale this nearly vertical face with a pair of wooden pegs. Choose the wrong hole, and you would be sent sliding back to the bottom, or stuck dangling like a twisted pretzel.
Mud Mile 2.0: Thought we couldn't get mud in the desert – think again. This obstacle is a classic du Tough Mudder fan favourite. With the pits full of mud, if you don't start this obstacle with a team, you'll come out with one, or maybe end up stuck for good.
Reach Around: Much like the name implies, this obstacle is going to challenge Mudders to reach up and grab hold of something they cannot see. After scaling up the face of this structure, at a backwards 45-degree angle, Mudders will be forced reach up and around the overhang and pull themselves up and over the top. Reach, feel, grab – you get the gist.
Skidmarked: Even if you can get a grip on the edge of this 10' slanted wall, you won't find a foot hold. Angled so its middle sits just out of reach of your swinging legs, you'll have to find another way to scale this obstacle. Better have a teammate up above, down below, or a pair of wings.
Killa Gorilla: Your three favourite things combined: mud, hills and sprinting.
Berlin Walls: This du Tough Mudder staple keeps coming back bigger and badder. At 9' 6", that cleat at the bottom might give you a leg up, but it won't make you Mary Poppins. Whatever your strategy for conquering this wall, don't forget they come in pairs.
Fireman Carry: The ultimate showcase of teamwork – carry your fellow mudder through sand to get him to the other side
Hurdles: Jump up and over hurdles like an Olympian…maybe…
Totally Tyresome: A pit of tires held together with mud and sweat – walk, crawl or run through as quick as you can
Big Dipper: Some say it is the highest dune ever climbed by humans…
Sandbagging: A du Tough Mudder classic – carry your sand bag through a course where no weights are the same!
Mudder Barrow: The classic children's game with a du Tough Mudder twist!
Watch out for 'The Vault'
Perhaps the most difficult challenges of all and what the du Tough Mudder team calls their "favourites," Mudders will face four obstacles, dealing with passing by barbed wires and tangled rows, jumping over hay bales and moving through 60 ft of water with minimal airspace. Check it out:
Kiss of Mud 2.0: Kiss of Mud 2.0 puts you down in the muck right from the start. With less than 18" of clearance between tangled rows of barbed wire and your bum, and a floor of slushy cold mud beneath you, there's nowhere to move but forward.
Cage Crawl: Conquer your fear & keep moving through 60 feet of water and only 6 inches of air space!
Quagmire: Shaped like a moon crater filled with treacherous shoe-stealing, unforgiving mud, Quagmire is a mud puddle it'll be easy to step into, but the way back out won't be so simple. You can crawl, scramble, or climb a chain of Mudders back out, but we make no promises about your footwear.
Bale Bonds: Sets of hay bales are positioned to have you climb up and down as you go make your way through them – think it looks easy? Just wait…
Curated training sessions starting this week
Before the obstacle race, Mudders can get in shape by specially curated training sessions from The Warehouse Gym, du Tough Mudder's official training partner. The eight-week program starts this Friday, 5th October at their branches in Dubai Design District and JBR. You can check the detailed list of sessions here.
Save the dates: 7th-8th December
du Tough Mudder will take place at Hamdan Sports Complex from 7th-8th December. Ticket pricing starts from Dhs360, while du Mini Mudder tickets for the little ones cost Dhs55. Mudders will get action photos, a T-shirt, a headband and "an accomplishment like no other." You can buy tickets here.