Go and search for Palestine on Google Maps and you won't find an official country, and it's been making a lot of people angry on social media.
Palestine is a small region of land around 2,400 sare miles in size and is recognised as the State of Palestine by the United Nations.
But it's not officially represented on Google Maps. And while it's often referred to as the region between the Mediterranean and the Jordan River, and can include Gaza Strip and the West Bank, there isn't an official border. Which has lead to controversy in the region over who owns the land.
And if you head to Google Maps, you'll only find an outline of Israel. Which has caused Twitter to go into a meltdown of conspiracy theories on why Palestine has been removed from the map.
Old news is news again
The simple answer is that it hasn't been removed. But the confusing answer is it has never actually appeared on Google Maps.
Google told the New York Times back in 2016: "There has never been a 'Palestine' label on Google Maps. However, we discovered a bug that removed the labels for 'West Bank' and 'Gaza Strip'. We're working quickly to bring these labels back to the area."
And if you do go onto Google Maps now, you'll find that the West Bank and the Gaza Strip are there. Alongside the Wikipedia definition of Palestine.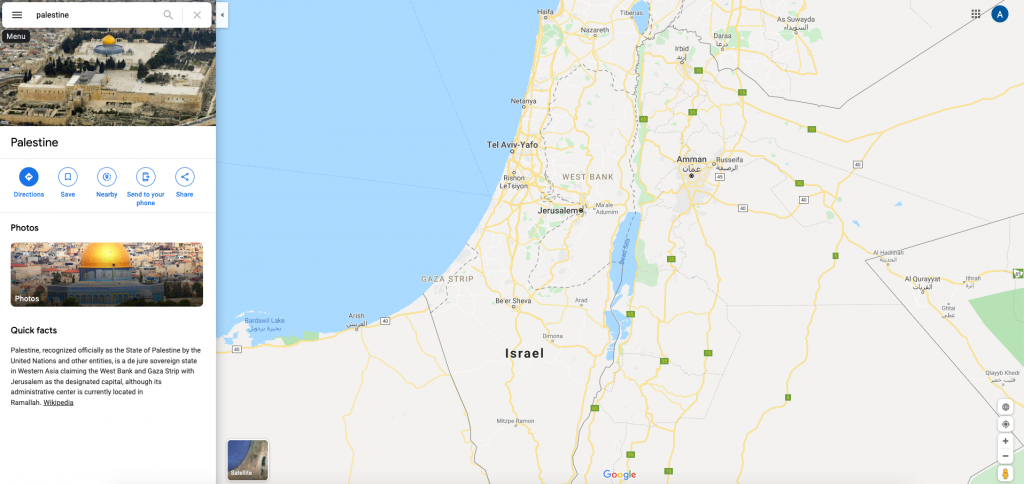 Not officially recognised
Despite 138 of the 193 United Nations members recognising Palestine, it's still not officially recognised on online maps.
A petition from 2016 urging Google to include Palestine on their maps gained over a quarter of a million signatures. But there's still not been any official action taken.
And once again, the news that Palestine isn't on official online maps is news yet again. Despite it never officially appearing on online maps in the first place.
Keep up to date with the latest news from across the region with our DubaiLAD page here.