Get ready for the camping season folks! Popular weekend road trip spot Hatta is the next destination by the Meraas team giving a fancy makeover to boost eco-tourism in the country.
Hollywood style Hatta sign, say what?!
Brace yourself! The first project in the 10-year Hatta Comprehensive Development Plan is by having a Hatta board placed on the Hajar mountains to welcome residents and tourists. The development for Hatta area is aligned with the directives of UAE's Prime Minister and Vice President, His Highness Sheikh Mohammed bin Rashid Al Maktoum, which was announced two years ago.
First-of-its-kind trailer hotel concept is coming up
Residents who've been born and raised in UAE are in for a surprise once the trailer concept hotel opens. It's a first-of-its-kind hotel set against the views of the Hajar mountains and the Hatta Dam in the country and judging by its images, they're undeniably picturesque! Alongside, there will be shopping and touristic spots for hotel stayers to look out for.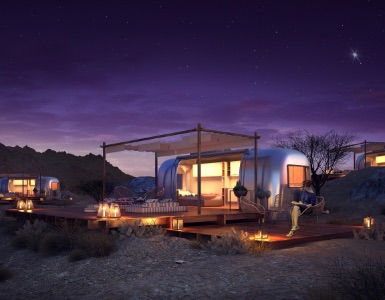 Plenty of retail and hospitality outlets will be set up
Besides trailer hotels, the Meraas team is also developing mountain lodges situated across the Hajar mountains, perfect for camping, relaxing and insta-worthy photos. The lodges are being built away from residential areas to respect Hatta residents' traditional lifestyle and privacy. For now, there are 20 lodges being built, but that's not it, the second phase will have even more modern and unconventional projects.
New Hatta will open by the end of 2018
By the end of this year, Meraas will open doors to the new hospitality and retail services. Meraas' group chairman, His Excellency Abdullah Al Habbai said "We have worked to establish effective partnerships between Meraas and the people of Hatta in order to ensure projects meet the aspirations of present and future generations and that the area is equipped to receive more visitors to historical, social and cultural heritage sites, as well as indulge in a distinctive shopping experience of handicrafts and agriculture products and enjoy authentic Emirati cuisine in Hatta."