How much would you pay for a mouldy phone cover?
A German influencer was offered £120,000 (roughly Dhs600 000) for a mouldy mobile phone case after she jokingly listed the piece on eBay. 27-year-old Bianca Classen, came up with the idea to sell the piece of "modern art" and donate money from the sale to a homeless charity.
However the influencer ended up having to cancel the auction after realising she would have to pay 10 percent tax first!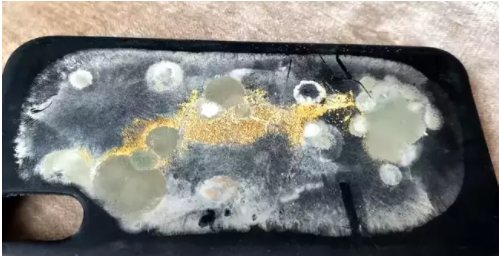 Mouldy Case Listed As "Modern Art"
Classen who goes by the pseudonym of 'Bibi' on social media has almost six million subscribers with whom she shared images of the mobile phone case.
She said that the phone cover got wet while she was taking photos underwater, then left it in a cupboard and forgot about it.
Mould ended up growing on the case, which "Bibi" figured looked like modern art.
She then listed the cover on eBay, with the proceeds set to be donated to a homeless charity in German cities.
Bids Quickly Racked Up
The influencer was surprised to find the bids for the mouldy phone cover go up to Dhs 594 000, which meant she would have to pay Dhs58 000 in tax before she could actually give the money to charity!
She then decided to not take up the buyer's bid, despite the high offer.
Classen would have had to pay the tax first before the buyer paid up – and what if he didn't?
Classen also said that eBay also cancelled the auction anyway, after coming to the conclusion that the sale was questionable….
It is not clear whether or not the highest bidder genuinely thought the mouldy phone case would have been a worthwhile investment, or if they had just been a huge fan of the star – who knows?