Hundreds of fans of The Weeknd were left disappointed by insufficient crowd control at du Arena on Yas Island last Friday.
Chaos at du Arena entrance
Late concertgoers queuing at the du Arena entrance after 10 pm were fumed since the crowd control team reportedly didn't allow them to enter the venue. Ticket holders who stayed in line for an hour were left with no choice than to push each other and force their way into the concert through metal doors. By 10:15 pm, ambulances and police arrived on site. No casualties were reported.
Organisers react to concert mayhem
Flash Entertainment, the team behind putting up Yasalam After-Race Concerts, blame "a large number of fans" arriving at du Arena simultaneously and "inappropriate fan behaviour" as the reason for congestion. A statement posted by the organisers reads "Du Arena can easily accommodate 35,000 people. A large number of fans arrived simultaneously to The Weeknd concert and the gates were closed for safety. We understand this is disappointing and frustrating. It is disappointing to hear there were instances of inappropriate fan behaviour. The necessary teams are working to ensure smooth and safe entry of the following concert."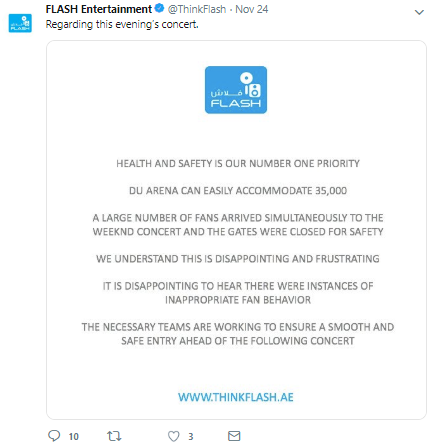 Social media outcry after The Weeknd concert
Several ticket holders took to social media to express the disappointment after being stopped from entering the venue. Iman, who experienced the angry scenes, said "This was preventable. You and Yasalam should apologize for poor management and planning. Also, there was no safety risk until they closed the gate and stopped people from entering. This is not the first concert you lot organize."