UFC have announced the news local MMA fans have been waiting for… in a tweet yesterday, they said Muslim fighter Khabib Nurmagomedov will be headlining UFC 242 in a title unification bout against interim titleholder Dustin 'The Diamond' Poirier in Abu Dhabi.
UFC Abu Dhabi, Let's Get Ready To Rumble!
Dubailad reported last month that the there was a strong possibility that the bout would take place in the UAE (Read Here) and both UFC and president Dana White took to Twitter yesterday to confirm.
Team Mates Will Be Joining Khabib on the UFC 242 Card
The Eagle will be joined by cousin Abubakar Nurmagomedov and team mate Zubaira Tukhugov who return from suspension following the brawl that ensued during the aftermath of Khabib's showdown with McGregor. Controversially, the champion said that he would not fight in the UFC again unless his team mates were reinstated. And, the Muslim superstar is a man of his word, as his team mates' suspensions have been lifted and all three will perform in the capital this September.
Khabib's Father Abdulmanap Will Return To The Octagon To Corner Him
For the first time in over five years, Khabib's father will be able to corner him. Visa issues have prevented him from travelling to North America to support his son for previous fights. However, the UAE have been much more accommodating to the veteran coach, whose son is friends with the Crown Prince of Dubai, HH Sheikh Hamdan bin Mohammed bin Rashid Al Maktoum.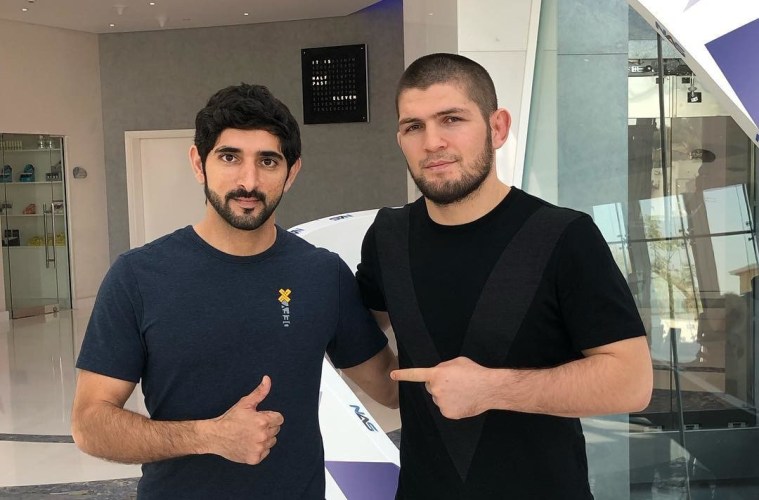 Photograph credit: Instagram
Who are you rooting for… Team Khabib or Team Dustin?
Comment below.