In many ways, the Abu Dhabi Grand Prix was a historic one, marking ten years since its inception, celebrating Lewis Hamilton's fifth world title, Fernando Alonso bowing out from racing and Nico Hulkenberg's horrendous crash. Here's a rundown of the highlights from all the motorsports action:
11 wins for Lewis Hamilton this season
It's been a stellar campaign for Lewis Hamilton this year, winning 11 races this season. The Abu Dhabi Grand Prix victory marks his fifth world title. Race results show the Mercedes champion completing the race with 25 points, followed by Ferrari's Sebastian Vettel with 18 points and Red Bull Racing's Max Verstappen with 15 points.
Hamilton's topless celebrations had a purpose
While arriving at the podium, the 33-year old champ surprised spectators by showing up topless. To which, he said he "always wanted to do it" and to reveal a tattoo situated on his back, which reads 'Still I Rise.' The tattoo takes inspiration from Billy Monger, a Formula Three driver who made a comeback to racing after losing parts of both legs in a crash last year.
Hamilton said, "Like Billy Monger, he's been an inspiration to me this year, which I'm sure he'll find really strange because he probably looks up to me in the sense that he wants to be in Formula 1. But what he's done, and so many people who've gone through difficult times, that's really what 'Still I Rise' is all about. I'm trying to be as big a spokesman I can be about it. So that's really why I did it."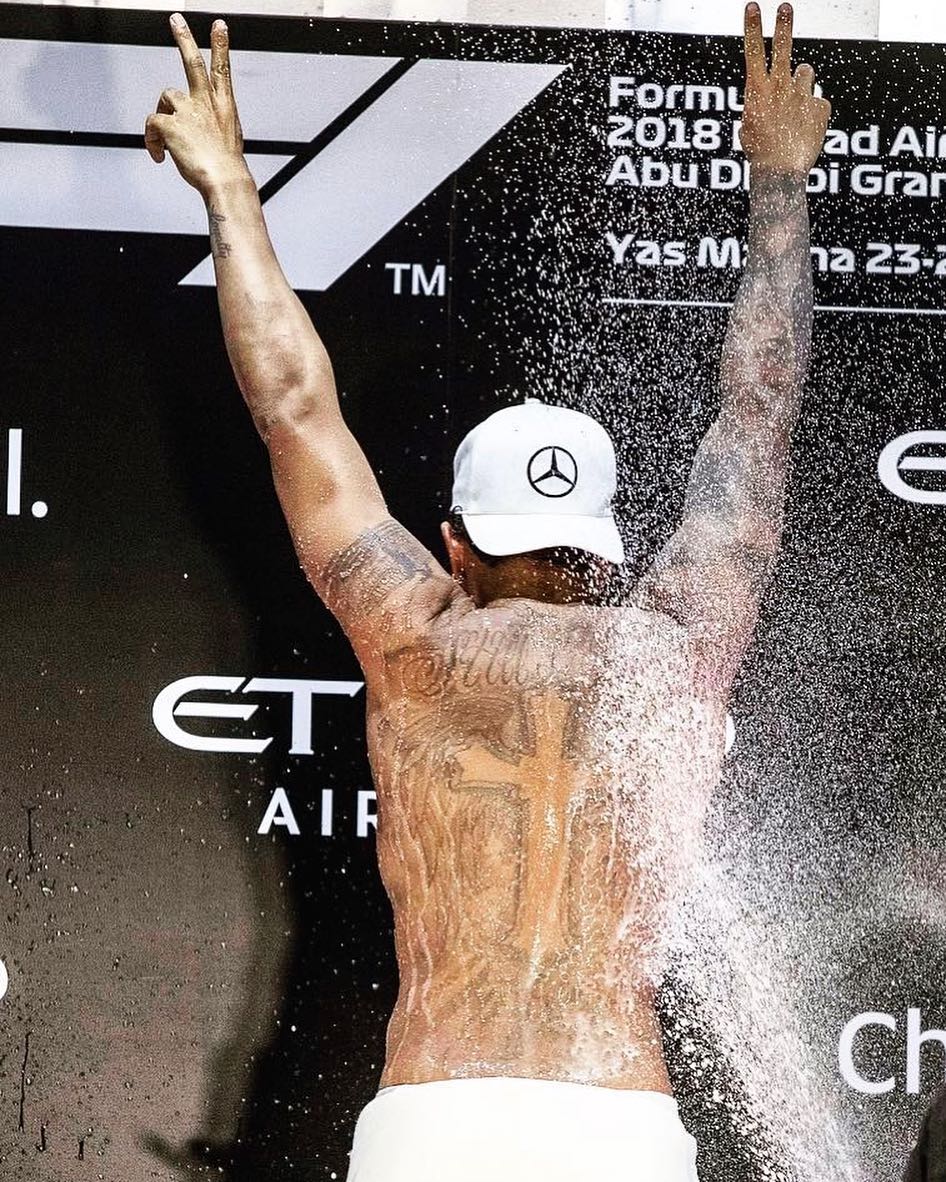 Fernando Alonso bids farewell at Abu Dhabi Grand Prix
Spain's Fernando Alonso called it quits after 17 years and 311 races. Along with Lewis Hamilton and Sebastian Vettel, the trio performed donuts together as he bade farewell from the motorsport. Looking back at his career, the 37-year-old champion has two world titles and 32 wins. Plus, He's regarded as "the man who ended Michael Schumacher's Formula 1 reign."
Nico Hulkenberg safe after horrific crash
Moments after the race commenced, Nico Hulkenberg was trapped in ablaze after a collision with Romain Grosjean, wherein his Renault vehicle flipped thrice and burst into flames. Fortunately, Hulkenberg is safe. Grosjean, on the other side, wasn't penalized for the accident but apologized, saying "I feel very sorry for him but there was nowhere I could go."