Perhaps the most adrenaline-fueled romantic moment this year, Adrian Mackay, the soon-to-become groom has taken marriage proposal to a whole new level.
Proposal happened at the Jebel Jais zipline
Ras Al Khaimah's popular tourist spot and the tallest mountain in UAE, Jabel Jais is home to the world's longest zipline, measuring up to 2.83 kilometres and has the ability to reach speeds of 120 km/h. Adrian took the soon bride-to-be Susan Kuruvilla on the thrilling zipline ride and it was until the landing when a banner was set up which read 'Will you marry me' and Adrian went on to propose her.
RAK's Tourism Authority wanted to make it happen too
Preparing for this stint even got the Ras Al Khaimah Tourism Development Authority(RAKTDA) and zipline team Toro Verde involved, helping Adrian get the banners, videography and other necessary arrangements sorted. As everything went according to plan, the big moment came when Adrian proposed Susan, to which she said a big yes.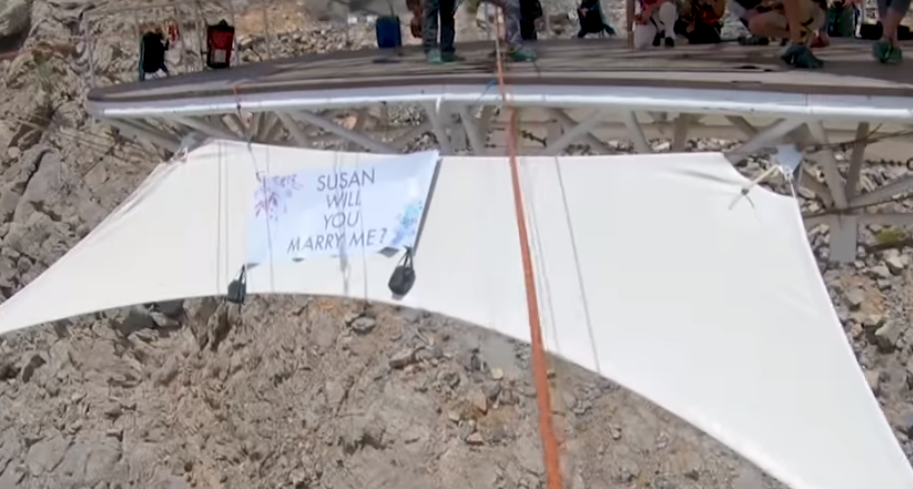 Proposing on the zipline was in his mind for a long time
Since the zipline opened in February this year, Adrian found it the ideal place to do the proposal. He said "I wanted to do something special to make our engagement unique and when I heard about the world's longest zipline, I knew it would be the perfect way to propose. From the beautiful drive to Ras Al Khaimah to the stunning views in the Jais Mountains and the exhilaration of the zipline itself, it was truly a once-in-a-lifetime experience and the operator, Toro Verde, did everything possible to make it even more special. I am so happy I got to ask the girl of my dreams to marry me and do the world's longest zipline."
Jebel Jais has received 10,000 visitors since its launch
Within barely five months, the tourist spot has received 10,000 visitors going for the zipline experience, which goes to show how RAK is emerging as the adventure capital of the country. They've also got trekking, hiking and climbing activities going on at Jabel Jais and there are plenty of mountains in the emirate such as Wadi Galilah and Jabel Yibr worth driving to for camping and trekking.
Shuttle bus services to Jebel Jais have started
Visitors, residents and thrill-seekers without a drivers' license will not have to rely on friends anymore to make a plan and go to the tallest mountain. Last week, RAKTDA announced the start of shuttle buses from the Al Hamra area to Jabel Jais, charging 20 dhs one way. Three coaches will be operating daily. You can check the timings at www.jebeljais.ae/shuttlebus.