With a slew of parties, wellness and A-list events, there's every reason to head out and enjoy whats happening in UAE. Mark your calendar with our roundup of the best events this weekend.

Juicy J live
Where: White Dubai
When: Thursday, 31st January
About: In a rap generation dominated by mumble-rappers, Juicy J will be bringing it back to the old school. The 43-year-old rapper burst on the scene in 1991 with his former rap crew, Three 6 Mafia, who gave us hits like "Stay Fly," "Slob On My Knob" and "Who Run It." He eventually moved away from the group to pursue a solo career, delivering hit-singles "One of Those Nights," "For Everybody" and "Show Out." You might remember Juicy J as a featured rapper in Katy Perry's worldwide hit, "Dark Horse" and Miley Cyrus' club banger, "23." For reservations, contact 050 443 0933.

Yung live
Where: Atelier M
When: Thursday, 31st January
About: Remember the 2010 viral dance fad, 'Teach Me How To Dougie?' You can relive the dance craze this Thursday, when rapper Yung, from former party rap quadrant Cali Swag District, takes the stage at Atelier M. After the tragic deaths of his former band members M-Bone ad JayAre, Yung decided to pursue a solo career and gave us hits like "Ridin Thru My City," "For The Homies" and "Raised In The Wood." For reservations, contact 04 450 7766.
Fat Joe live
Where: Drai's
When: Friday, 1st February
About: It's about to 'All The Way Up' with Fat Joe at Drai's this Friday. With a career spanning close to three decades, there's no denying Fat Joe is one of the most prominent figures in rap. His discography boasts an array of iconic rap tunes like "What's Luv?," "Lean Back," "All The Way Up" and "Flow Joe." He's no stranger to UAE, having performed at Caribbean Beach Festival and 1Oak last October. For reservations, contact 052 388 8857.

Solardo and Mathame live
Where: Blue Marlin Ibiza UAE
When: Friday, 1st February
About: Each passing year, several DJs rise to the occasion with festival debuts and high-profile club residences. Similarly, electronic production duo Solardo and fan favourites Mathame have come off a successful 2018 and will be playing a live set at Blue Marlin this Friday. Expect solid chords, percussive samples and deep kicks from the DJs. For reservations, contact 056 113 3400 or email reservation@bluemarlinibiza-uae.com.
Afro B live
Where: 1Oak
When: Friday, 1st February
About: British-Ivorian music sensation Afro B returns to Dubai to perform at 1Oak this Friday. The rapper got the world dancing after the release of "Drogba," honouring Ivorian football legend Didier Drogba. Since then, he released back-to-back hit singles "Shaku Shaku," "Melanin" and "You Know," that elevated his music career as one of Afrobeats' emerging artists. For reservations, contact 052 881 8888 or email reservations@1oakdubai.com.
Kaynouna: See The Footsteps
Where: Jumeirah Creekside Hotel
When: Friday, 1st February
About: Alternative music fans, rejoice! The first edition of UAE's free-spirited outdoor festival, Kaynouna takes place this Friday, themed 'See The Footsteps.' The line-up includes Parisian DJ Viken Arman, MoM, Safi, Rabih Rizk, Ayash and Dawa. Tickets are available for Dhs210. The event is strictly 21+.
XYoga
Where: Kite Beach
When: Friday, 1st-Saturday, 2nd February
About: Make your way to Kite beach for a weekend of self-exploration, wellness and positiveness. It's a free event with a star-studded line-up, including Portuguese football legend Luis Figo, San Francisco-based yoga expert Janet Stone, Bollywood actress Nargis Fakhri and many more. Attendees are recommended to bring a yoga mat along.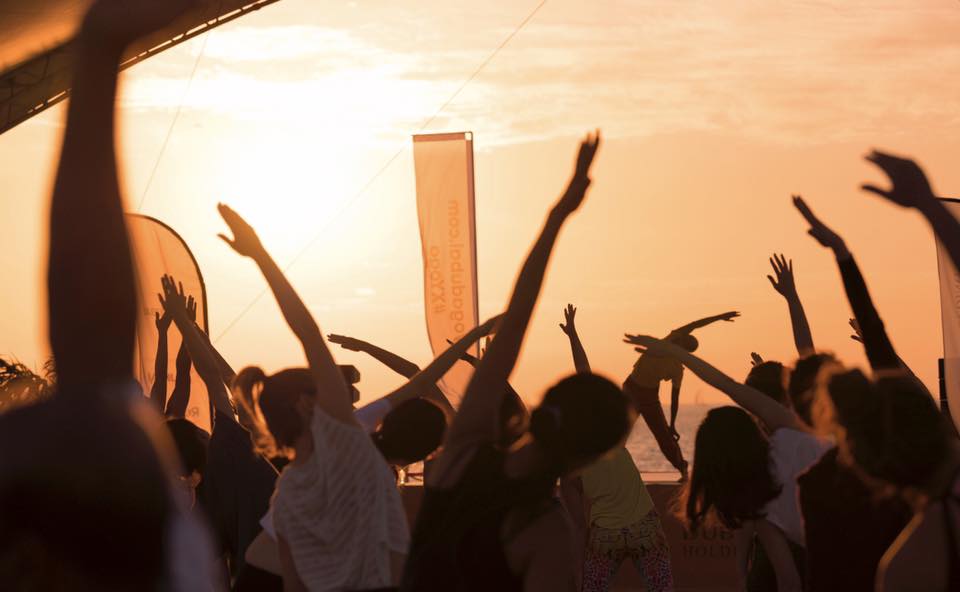 Photograph credit: XYoga