Movie and TV streaming giant Netflix has announced they're working on a new series of films and docu-series starring the one and only, the Obamas!
Both Barack and Michelle Obama have agreed to cast
Former US President Barack Obama and former First Lady Michelle Obama signed a multilayer deal with Netflix and it's most likely by early 2019 we'll get to see the former first couple on a show. In an official statement by Netflix, they said "the Obamas will produce a diverse mix of content, including the potential for scripted series, unscripted series, docu-series, documentaries and features."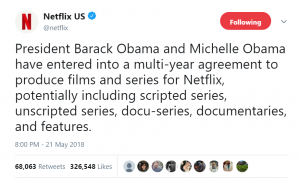 Barack Obama has made an appearance on Netflix before
David Letterman made a comeback to the talk-shows this year, hosting the Netflix-original show 'My Next Guest Needs No Introduction'. The show has had an exclusive list of guests like activist Malala Yousafzai, US rapper Jay Z and Barack Obama. The show was received with positive reviews, Metacrtic rated the show with 70% whilst Rotten Tomatoes gave the show an 81% rating.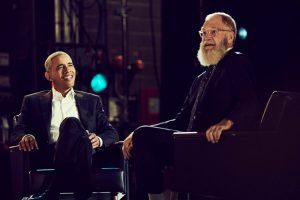 Netflix has 125 million subscribers
Video-on-demand streaming was never a thing until Netflix came in and started a revolution by mainstreaming the concept. In 20 years of operations, they've expanded from California to Japan, South Korea, India, Netherlands and Brazil. Interestingly, majority of their subscribers are from rest of the world, with 68 million subscribers.
'13 Reasons Why' season two premiered last week
Coming-of-age TV show '13 Reasons Why' premiered last week on May 18th. It's one of the most talked about shows by Netflix because of its storyline dealing with mysterious events and how teenagers deal with it. The show met with positive reviews too, receiving an 8.2/10 rating by TV.com and a 76% rating by Metacritic.
Netflix has come under pressure for the show 'Ibiza'
Entertainment website MixMag has reported that the Ibiza government has launched a case against Netflix for their upcoming film 'Ibiza'. Apparently, the film was shot in Croatia and has nothing to do with the Spanish party destination. The film is a comedy flick about a group of female friends going on a vacation together.