Floods in the southern state of Kerala, India have caused devastation across eleven districts since the last one week and UAE is taking a step forward to help its people.
National emergency committee formed
President of UAE, His Highness Sheikh Khalifa bin Zayed Al Nahyan ordered for the formation of a National emergency committee to provide relief assistance to people affected by the floods. The committee is chaired by Emirates Red Crescent(ERC) and includes representatives from UAE's humanitarian organizations.
Dhs10 million received in funds
Within hours after the committee's formation, it received Dhs10 million by UAE's industrialists. LuLu Hypermarket chain worldwide's CEO Yusuff Ali M.A and Dr B. R Shetty, CEO and Vice Chairman of NMC Health PLC donated five million dirhams each. The foundation calls for humanitarians and UAE residents to donate money.
Sheikh Mohammed offered condolences to flood victims
Ruler of Dubai, Prime Minister and Vice President of UAE, His Highness Sheikh Mohammed Bin Rashid Al Maktoum published a series of tweets offering his condolences, urging everyone to "contribute generously". He also described Keralites as a "part of our success story" and that it's "a huge responsibility" for UAE to help the state.
[1/3]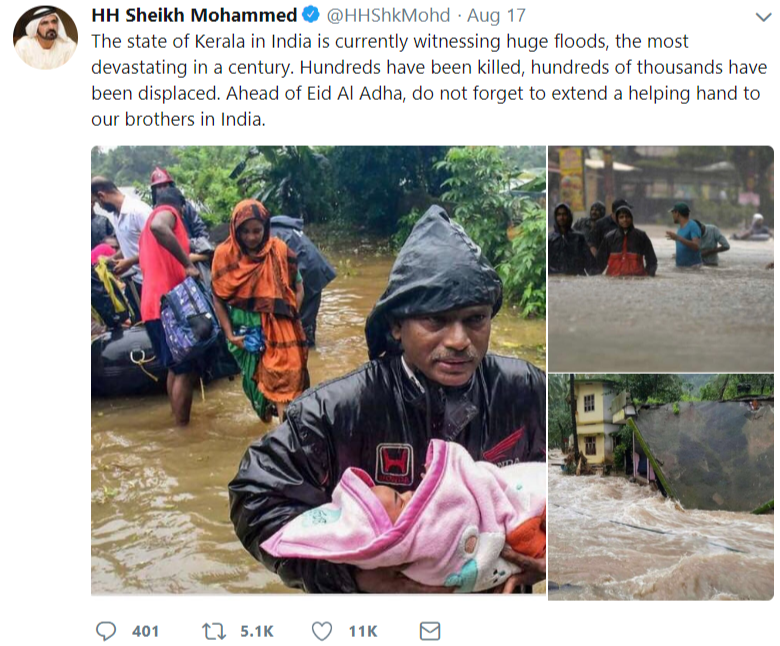 [2/3]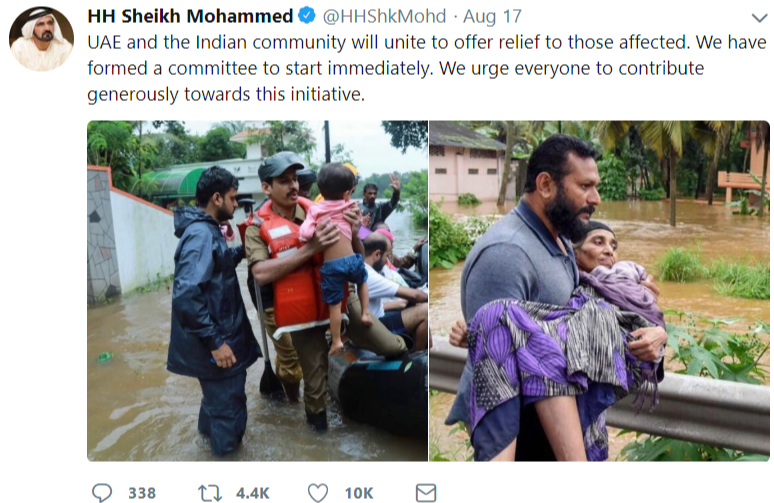 [3/3]
Death toll at 324
Since the flash floods started on July 29th, a total of 324 deaths have been reported, according to the Government of Kerala Chief Minister's Distress Relief Fund. Kerala's Chief Minister, Pinarayi Vijayan announced that over 680,000 people have been relocated and informed India's Prime Minister, Narendra Modi that Kerala has suffered a loss of INR19,512 crores(Dhs 10.26 billion on initial assessment. The Prime Minister announced a grant of INR500 crores(263.1 million) for relief.
More than 80,000 rescues made
Kerala's Chief Minister promised that efforts will continue "to save even the last person stranded." As of August 17th, a total of 82,442 rescues were made and 2094 camps have been set up across Kerala, providing housing to 3.1 million people from 70,085 families. In the Chengannur district, five military boats, four helicopters and 65 fishing boats are in operations, distributing food supplies and rescuing stranded victims.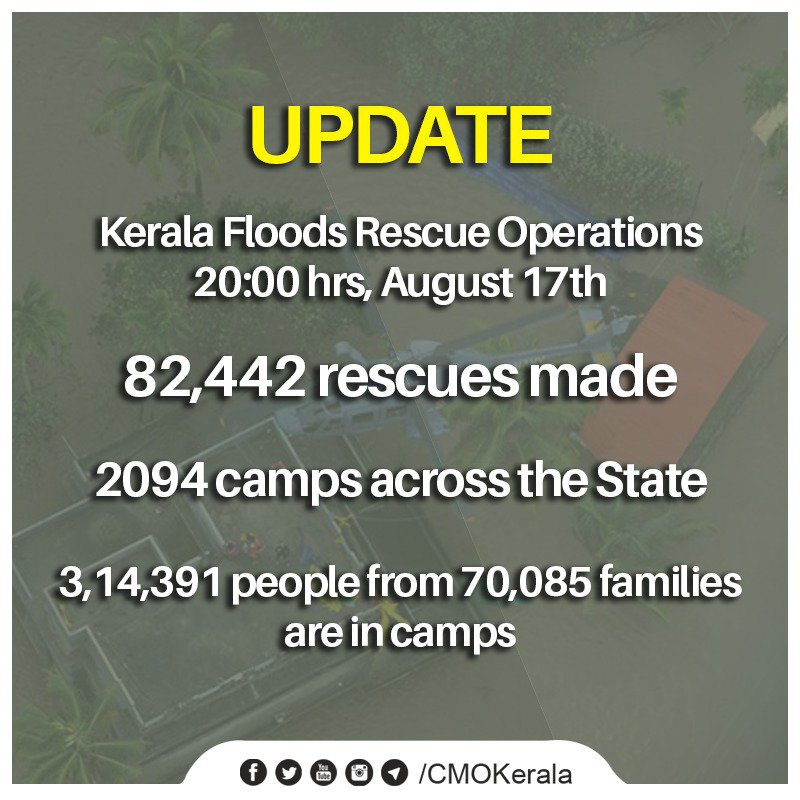 Here's how you can donate to Kerala
Kerala is accepting financial, food and medical aid. You can donate money on the Chief Minister's Distress Fund by submitting the online form on this link. Whereas, Emirates Red Crescent is accepting donations from just ten dirhams to Dhs200, by sending an SMS via Etisalat or Du. Here's the breakdown.
| | | |
| --- | --- | --- |
| Amount | Du | Etisalat |
| Dhs10 | 3441 | 2441 |
| Dhs50 | 3443 | 2443 |
| Dhs100 | 3446 | 2446 |
| Dhs200 | 3449 | 2449 |