Recently relaunched gastropub The Lion by Nick and Scott at The H Hotel Dubai has come up with an offer with unlimited curries available with three drinks.
Offer is valid every Tuesday
Most offers are to do with ladies nights on Tuesdays whilst The Lion by Nick and Scott's offer, named 'Ruby Tuesdays' is for curry lovers and foodies who can opt for curries with either lamb, chicken or paneer, along with rice, sides and three drinks. The unlimited offer is for Dhs 125 and is valid between 4pm-11pm.
Nick and Scott have worked with Gordon Ramsay before
Chefs Nick and Scott have set the benchmark in the dining scene in Dubai since their first venture 'table 9' in 2011. They've had five ventures since then and The Lion is their latest venture opened this year along with 'Folly' at Madinat Jumeirah since last year, which was ranked third on Esquire Middle East's 50 finest restaurants.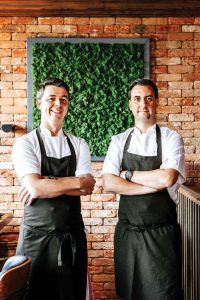 Four more deals are available throughout the week
Diners can head to the gastropub on Wednesdays as they've got a deal serving steak pie and malt for Dhs 105. They've got two deals going on Thursday, serving brunch from 7pm charging 250 dhs for two hours as well as the fish-and-chips with dessert deal charging Dhs 90. The brunch deal continues on Friday too from 2pm onward.