Brace yourselves, folks! There's going to be loads of bouncing and tumbling as Dubai's first ever Inflatathon obstacle course is coming this November.
Inflatathon has countless obstacles to bounce through
Man oh, man! Just as if Crown Prince Sheikh Hamdan's Dubai Fitness Challenge 2.0 wasn't enough to get us back working out, the first-of-its-kind Inflation poses a challenge for residents to bounce and jump across ten huge obstacles spanning a distance of up to four kilometres. Those into fitness and obstacle courses are in for a surprise!
Bumpy ride across mountains and a leap of faith
Massive line up of challenges here! Starting with 'Himalayas,' a set of mountainous ascents and descents, followed by 'Minesweeper,' a minefield full of holes one has to pass through, ultimately leading to the fearsome 'Equalizer' challenge. As they say, 'what goes up must come down,' however, it's not the same here. Instead of sliding down, the challenge ends with participants required to take a leap of faith down to a giant inflatable object. Beware, the obstacles in 'Minesweeper' requires a lot of jumping!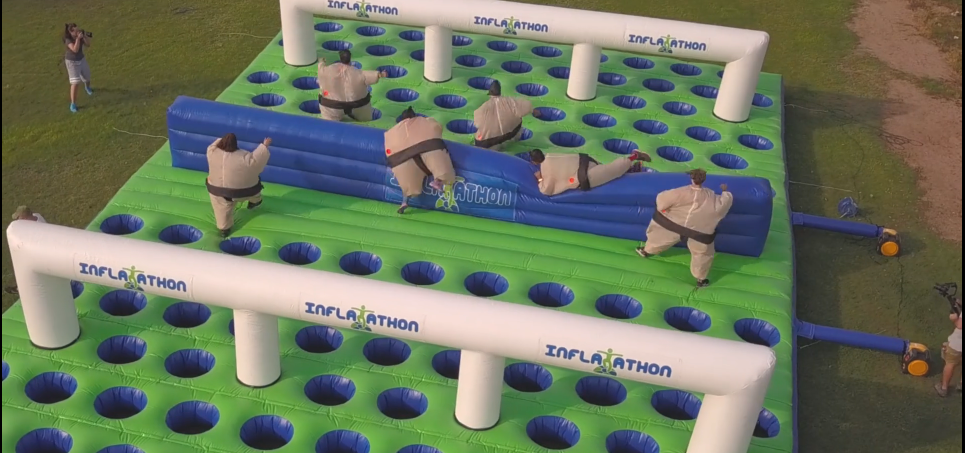 Challenge ending with a massive party, hell yeah!!
Whether you finish first or last, they're doing a festival-style after party and it's their way of congratulations on the completion of the challenge, with a stage and live DJ! Whereas, families participating in the challenge can enjoy plenty of entertainment facilities, as they've got food trucks, sponsor stalls with products and amusements and a small children's area for the little ones.
Discounts for early birds and families going on
Pricing for tickets to the Inflatathon start from early bird offers costing Dhs160 and family tickets costing Dhs 240, allowing one adult and one child valid till 27th September. Standard tickets start at Dhs200 to Dhs400 for VIP tickets, including entry to the village, all-day entry to the challenge, entry to the inflatable heat, a T-Rex or Sumo inflatable suit, Inflatathon merchandise(cap/ T-shirt) and a finisher medal. Tickets available here
Promoting a healthy lifestyle
Dubai Sports Council and the organizing team behind Inflatathon came up with this concept as a "unique way to get active" and get residents to "engage with sport and live a healthy lifestyle." His Excellency Saeed Hareb, Secretary General of Dubai Sports Council, said: "This is a unique way to get active and have fun at the same time. We are excited to be launching a new obstacle course experience in the region. We hope to see people of all ages and from all walks of life across Dubai out in force and enjoying this hugely entertaining event."