Want to know what's hot in DXB this weekend but can't be bothered to trawl the internet to find out? Well, DubaiLAD has got you covered with our guide to what's happening in our epic city!

Raxon live
When: Thursday, 25th April
Where: Soho Garden
About: Anyone who's been following the UAE's local DJ scene over the past few years will probably be aware of its evolving success, one of the biggest success stories is Raxon. The Abu Dhabi-born DJ has been in the game for over a decade, starting off as a resident DJ at the recently demolished 360. The Egyptian DJ will be back in town and gracing the decks at Soho Garden tonight. For reservations, call 052 388 8849 or email reservations@sohogardendxb.com.
Lost Frequencies live
When: Thursday, 25th April
Where: The Penthouse, FIVE Palm Jumeirah
About: Belgian melodic master Lost Frequencies makes a return to Skyline Thursdays at The Penthouse, FIVE Palm Jumeirah. It's difficult to understate the 25-year-old's contribution to the electronic music scene, having dropped smash hits like "Reality" and "Are You With Me," which topped charts worldwide. Resident DJs NSI and Two Pauz will get the crowds going with opening sets. An evening brunch is available from 9 pm. Click here for bookings.
Tyga live
When: Friday, 26th April
Where: Base Dubai
About: 2018 was quite the year for Tyga, delivering a slew of club bangers like "Taste," "Swish," "Dip" and "King of the Jungle". The California-born rapper shot to fame as a member of Lil Wayne's rap group, YMCMB, until he embarked on a solo career, releasing hits like "Ayo," "Hookah," "Switch Lanes" and "Rack City," which peaked at number seven on Billboard Hot 100. The rapper will be performing for the nightclub's second anniversary. For reservations, call 055 313 4999.
Nelly live
When: Friday, 26th April
Where: Drai's DXB
About: Grammy-award winning artist and hip-hop champion Nelly is making his debut at Drai's DXB on Friday, It's hard to believe, but the Austin-bred rapper has spent almost two decades in the rap game, delivering club bangers such as "Ride Wit' Me," "Hey Porsche," "Dilemma," "Just A Dream" and the iconic club favourite, "Hot In Herre." Early bird tickets are still available, priced from Dhs 100.
DJ Jazzy Jeff live
When: Friday, 26th April
Where: Barasti
About: Those of us who grew up watching Will Smith's iconic show, "Fresh Prince of Bel Air," can never forget his ol' partner in crime, Jazzy Jeff and his never ending-attempts at impressing Hillary. The funnyman/DJ is headed for Dubai this Friday, performing at Barasti with resident DJs Tom Ferguson, Scott Forshaw & Jack Harris. Entry is free.

Solomun live
When: Friday, 26th April
Where: Soho Beach
About: A true force to be reckoned with, Solomun is one of the biggest DJs on the circuit. The 43-year old DJ and Diynamic label chief is a regular in Ibiza's busy scene, with residences at popular clubs like Pacha and Desino, as well as a firm fixture on the party map of the world. For reservations, call 052 433 3375 or email reservations@sohobeachdxb.com.
James Arthur live
When: Friday, 26th April
Where: Zero Gravity
About: It's fair to say James Arthur has established himself as a reputable artist on the UK's mainstream scene, thanks to hits like "Sun Comes Up," "Can I Be Him," "Rewrite The Stars," "You Deserve Better" and the worldwide hit, "Say You Won't Let Go," topping The UK Singles Chart and peaking at number 11 on Billboard Hot 100. Tickets are priced from Dhs 195. Get them here.
Massari live
When: Friday, 26th April
Where: White Dubai
About: One of the Middle East's biggest hip hop artists, Massari is back in Dubai for a gig at superclub White Dubai this Friday. The Beirut-born artist rose to worldwide stardom for songs like "Real Love," "Done Da Da," "Roll With It," "Bad Girl" and the chart bursting hit, "Shisha". For reservations, call 050 443 0933.
Fighting Fit Dubai: Fight Night
When: Friday, 26th April
Where: Zabeel House by Jumeirah, The Greens
About: After six gruelling weeks of training and challenges, contestants of the homegrown series, Fighting Fit Dubai will be divided in teams to face off at the fight night this Friday. Doors open from 6 pm on the rooftop terrace of Zabeel House by Jumeirah, and tickets cost Dhs 250. Dining options and beverages are available too.
Photograph credit: Fighting Fit Dubai
The Laughter Factory
When: Saturday, 27th April
Where: On42, Media One Hotel
About: Dubai's oldest comedy hub, The Laughter Factory has stacked up a stellar line-up of comedians taking the stage at Media One Hotel's ON42, taking place this Saturday. This edition features UK-based Malawian comedian and former Britain's Got Talent contestant Daliso Chaponda, Dana Alexander, one of Canada's most likeable comedians and Greek funnyman George Zach. Tickets cost Dhs 160.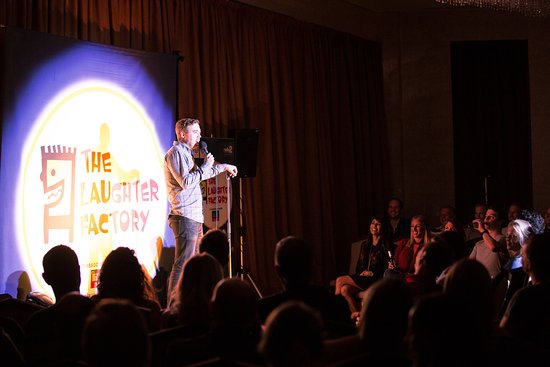 Photograph credit: TripAdvisor