Fear not party people. There will be parties throughout the city post-NYE. We've come up with a rundown of the best events happening in Dubai this week.

Sunday: 30th December: Soulja Boy live at White Dubai
Superclub White Dubai is bringing American rapper, Soulja Boy Soulja Boy this Sunday. At one point of time when the likes Eminem and Jay-Z dominated the music industry, Soulja Boy exploded on the scene dropping the hit, "Crank That." The song topped the Billboard Hot 100 charts in 2007, making him the youngest solo artist to accomplish the feat. He continues delivering hits like "Soulja Girl." "Pretty Boy Swag" and "Mean Mug" till today. For reservations, contact 050 443 0933.
Monday, 31st December: New Year's Eve at Barasti
There are all sorts of parties and celebrations going on across Dubai and Barasti is putting up an out-of-this-world festival to ring in 2019. The beachside party destination is kicking off celebrations with a pool party from 10 am-5 pm, followed by the massive NYE festival. To welcome the new year, they're hosting EDM duo Bassjackers and hip-hop mainstay, Fatman Scoop. Advance tickets cost Dhs 210 and Dhs 249 at the gate. For reservations, contact 04 318 1313.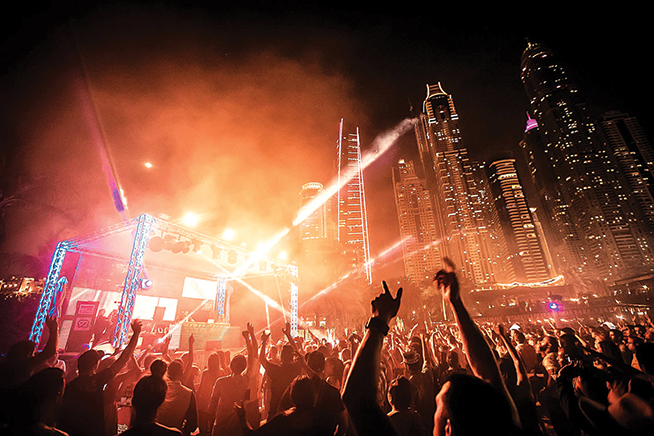 Photograph credit: Barasti
Tuesday, 1st January: New Year's Day at The Hatch
If New Year's Eve didn't tire you out, you can head to at QE2's The Hatch. They're marking day one of 2019 with a party headlined by Danish DJ Denis Horvat, followed with support from homegrown talents Frederick Stone, Michka and Aidin Karami. Entry is free but pre-bookings are mandatory. Contact 050 375 9715 for reservations.

Photograph credit: The Hatch
Wednesday, 2nd January: We Are Toy Room at Toy Room Dubai
With a wild mix of bass and hip-hop, We Are Toy Room is the ultimate pre-weekend club night. The clubbing hotspot will witness a takeover from the 411 Nights Crew, including homegrown talents DJ Bliss, Mr Shef Codes, DJ Keza and more. Not to mention, you can catch their wild party animal, Frank and his chums. For reservations, contact 052 463 3338 or email reservations@toyroomdxb.com.

Photograph credit: Toy Room Dubai
Thursday, 3rd January: Kaytek live at 40 Kong
Local DJ Kaytek will take over the decks at The H Hotel's rooftop concept, 40 Kong this Thursday. Kaytek will be accompanied with his good friends, DJ Sam Fariso and Memfisa to set the atmosphere. For reservations, contact 04 355 8896 or email reservations@40kongdubai.com.

Photograph credit: 40 Kong
Friday, 4th January: Mambo Brothers live at Cafe Mambo
Ibiza favourites Mambo Brothers are returning to Soho Garden's Cafe Mambo this Friday. The electronic production duo found fame in Ibiza's party scene and their talents have been witnessed by festivals like Tomorrowland. Their gig will follow with support from resident DJs Mar+Mer, Adam Graca, Jean B, IAmB and Jixo & Danz. For reservations, contact 052 3888 849 or email reservations@sohogardendxb.com.

Photograph credit: Soho Garden
Saturday, 5th January: Egor Kreed live at Base Dubai
Nearly every big Russian star found fame through reality shows and Egor Kreed is no exception. The 22-year-old Russian sensation burst on the scene producing on label Black Star and made a name for himself through songs like "Badilink," "Papina Dochka" and "Nevesta." His international fanbase makes him one of the most celebrated Russian musicians on the scene. For reservations, contact 055 313 4999.