From Halloween parties to music festivals and the Dubai Fitness Challenge, there's a lot to look forward to this weekend. We've outlined the 11 best events happening across the city this weekend.
Frankin' Hell at Toy Room Dubai
When: Thursday, 1st November
Where: Toy Room Dubai
About: Mayfair export Toy Room Dubai is hosting a wild Halloween celebration this weekend! The party will be a night of frightening fun with their naughty party animal, Frank as he comes out to play with the little lady devils after his release from hell. Open music format from crowd favourite DJ Pepelz. For reservations, contact 052 463 3338 or email reservations@toyroomdxb.com.
Arabs Are Not Funny
When: Thursday, 1st November
Where: Dubai Opera
About: Comedy Night is hosting an exciting line-up of four Arab comedians taking over the stage at Dubai Opera. Expect a great deal of stereotype-smashing social commentary and observational laughter. The line-up includes comedians Omar Hamdi, Fatiha El Ghorri, Nabil Abdulrashid and Maria Shehata. Tickets priced between Dhs95-Dhs195. Show starts at 8 pm.
BastiGrub and Timo Maas live
When: Thursday, 1st November
Where: Soho Garden
About: Meydan's party hotspot, Soho Garden is celebrating Halloween with the legendary DJ Timo Maas and DJ BastiGrub. Timo Maas has been a mainstay in the dance scene, for three decades, while BastiGrub has a reputation for his innovative DJing style. Partygoers can expect a nightlong party of deep house music and are recommended dress up in spooky costumes. For reservations, contact 052 3888 849 or email reservations@sohogardendxb.com.
Ty Dolla $ign live
When: Friday, 2nd November
Where: Boa Lounge
About: Rapper Ty Dolla $ign is set to rock the stage at Boa Lounge, celebrating the second anniversary of their weekly 'Bling Friday' night. The 33-year old rapper's discography boasts chart-topping hits like 'Or Nah,' 'Blasé' and 'Pineapple.' Contact 056 501 2039 for bookings. Party starts at 8 pm.
Candypants Dim Sum Disco Brunch
When: Friday, 2nd November
Where: Maiden Shanghai at FIVE The Palm
About: Global party brand Candpants' Dim Sum Disco brunch takes place this Friday. The high-energy brunch serves a variety of dishes inspired by contemporary Chinese cuisine and Far Eastern cuisine. Post-brunch, diners can enjoy a three-hour sunset party with DJ Adam Graca, playing a mix of commercial and urban beats. Beverage deals are available too. For reservations, click here.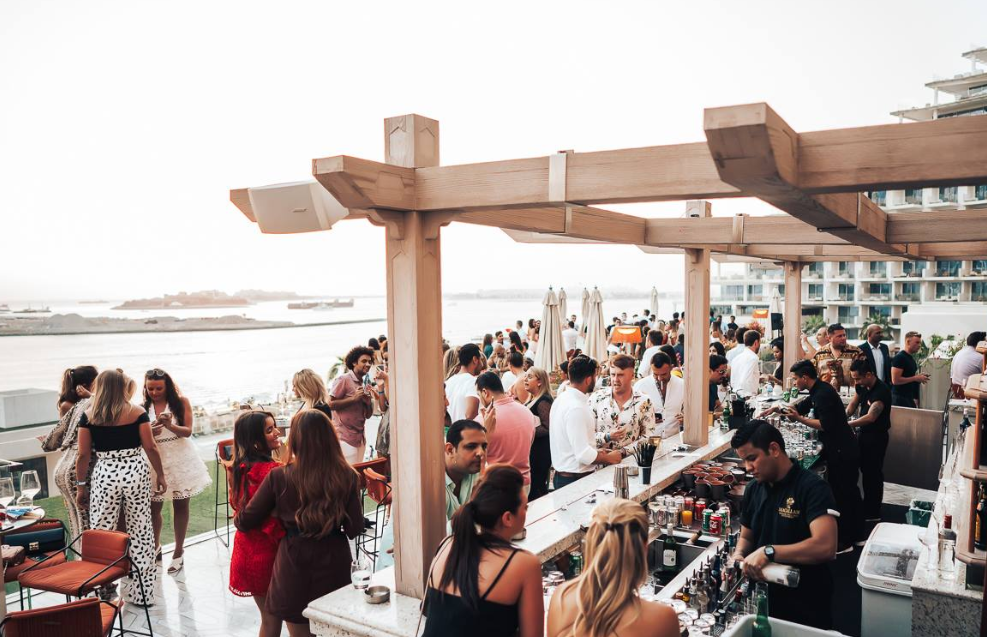 Kaynouna's 'The Art of Chilling' opening party
When: Friday, 2nd November
Where: Jumeirah Creekside Hotel
About: Kaynouna's free-spirited party season is back with a new edition, 'The Art of Chilling.' The upcoming season will be headlined by regional and international acts, performing alternative and tropical music. The season-launch party starts this Friday, from 4 pm-3 am, headlined by DJ Matthew Dekay, Armen Miran, production duo Sarkis Mikael and Emad Ayas, alongside live shows by Pandhora and Dawa. Tickets cost Dhs230.
Kususa live
When: Friday, 2nd November
Where: Pure Sky Lounge, Hilton Hotel at JBR The Walk
About: South Africa's freshest DJ duo on the block, Kususa are set to mark their Dubai debut, headlining the third edition Afrocentric. Their works have been recognized by the Red Bull Music Academy, South African DJ Icon Black Coffee and among South Africa's party scene. For reservations, contact 058 508 0860.
Defected festival
When: Friday, 2nd November
Where: Soho Beach DXB
About: Deep house music festival Defected is coming to Dubai's ultimate poolside party destination, Soho Beach. The mysterious German DJ Claptone and BBC Radio One's DJ Danny Howard are headlining the festival, followed with support from local talent Mar + Mer and Adam Graca. Tickets cost Dhs150.
Daman DXB SwimFest
When: Saturday, 3rd November
Where: Jumeirah Beach Hotel
About: Residents are invited to take part in the first every city-wide SwimFest. Races are offered in categories ranging from 300m to 1,600m to suit swimmers of all ages and abilities, incorporating iconic landmarks like Burj Al Arab and Jumeirah Beach Hotel. Race starts from 7 am. Ticket are priced between Dhs125 to Dhs300.
Dubai Fitness Challenge
When: Month-long
Where: City-wide
About: Sheikh Hamdan's flagship fitness initiative, Dubai Fitness Challenge 2.0 is on its second week. Unlike carnivals in the inaugural editions, residents can head to fitness villages and enjoy free fitness classes. They're situated across the city, including Palm Jumeirah, Kite Beach, DIFC, Al Khawaneej and DMCC. For full information about fitness villages and classes, click here.