MasterChef, the TV Experience has been resident at Millenium Place Marina since April 2019 and will be opening the doors to its new Showtime! Brunch concept from 13th September.
As first-time diners at MasterChef, the TV Experience we were excited to see what this new brunch was all about. The words 'TV' and 'food' usually get us thinking about a Pot Noodle dinner on the sofa, or if we're really pushing the boat out, an M&S microwave Meal For One. But obviously this is MasterChef so you can expect some top quality gnosh.
Menu Designed by past MasterChef champions
In fact, all the menu options at the Showtime! Brunch have been designed by past MasterChef champions from various seasons of the popular show over the last few years.
Impressive starters!
First we were served up unlimited sharing starters, and unlike your average brunch, they were brought to the table so we didn't even have to get our lazy selves out of our seats! Starters included Baked Brie with Bourbon, Pecan and Maple Drizzle, Lemongrass and Ginger Meatball Skewers (they were particularly awesome) and Prawn Bhaajis with Avocado.
Mouthwatering main course offerings
For mains we got to choose a course. Steak and Eggs went down pretty well, along with Seared Yellowfin Tuna with Chesnuts and Salsa Verde which was mouthwateringly good (these guys aren't MasterChef champs for nothing you know).
Live entertainment in an intimate ambience
Throughout our experience, our glasses were kept topped up while we were entertained with some live music from their in-house singer and guitarist duo. The vocalist's laid back style complemented the intimate, foodie/jazz club sort of vibe that the restaurant has.
Delectable desserts and tempting treats
By the time the desserts came out, we had just enough room left for the selection of high calorie (no regrets) treats that were brought to the table. The Crème Brulee French Toast and the Deconstructed Keylime Pie were favourites. There were also some cheeky little Mojito Meringues on offer, stationed in view of the open kitchen where we could see the chefs crafting the dishes.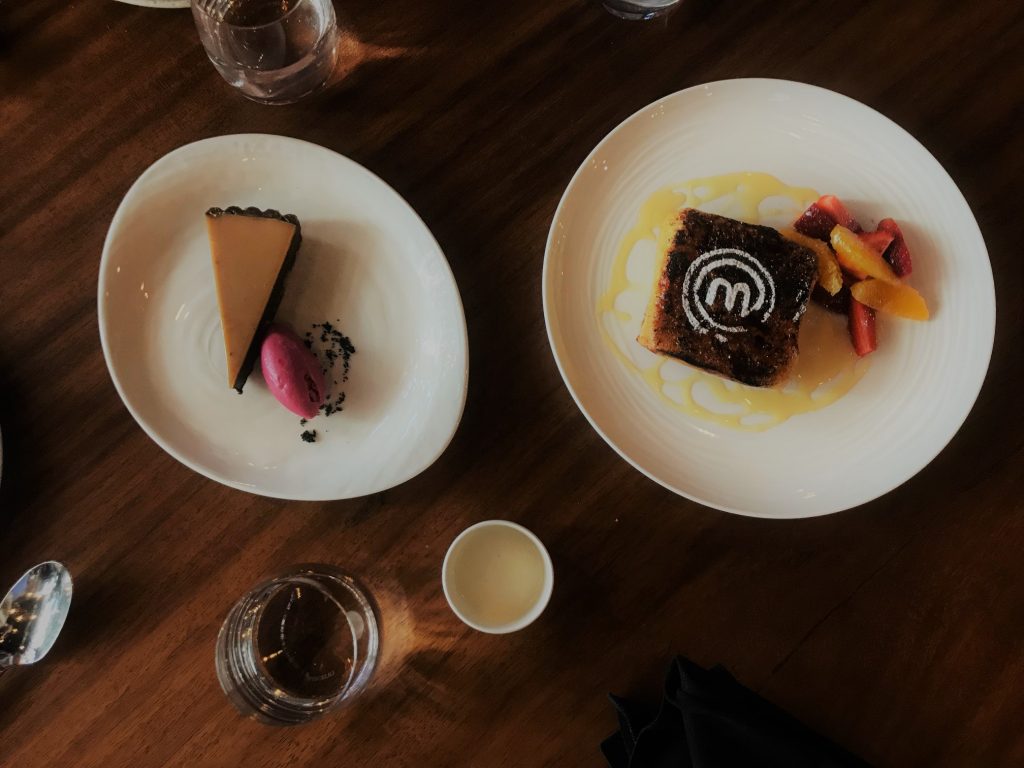 You can experience all this for yourselves from 13th September 2019. The 'Showtime! Brunch' is priced at AED299 for the soft beverage package, AED429 for house beverages and AED489 for a fizz package.
And if you're feeling fancy, you can take advantage of a special offer that includes a one-night stay at Millennium Place Marina with breakfast and a premium brunch package for two for AED799 per couple.
For reservations, visit www.masterchefdxb.com or contact info@masterchefdxb.com or 04 5508111.
MasterChef, the TV Experience, is open for lunch from 12-3pm Saturday to Thursday, 12.30pm-4.30pm on Fridays for brunch only and dinner from 7-11pm daily.