Implemented across 70 parking lots across the city, car owners will be fined for parking on designated parking lots for electric vehicles (EV).
Green economy is on the rise.
Among the six developmental themes for Dubai 2021, one of them is to build "A Smart & Sustainable City", with six aims based on integration, sustainability, healthy and a safe environment. Their aim for sustainability is to use its resources efficiently for the long term compared to international best practices levels.
Electric vehicle oweners enjoy great savings.
Till 2019, EV owners can charge their cars for free across 100 stations in Dubai. What's more, electric car owners won't be charged for car registeration and renewal. They will be provided with electric vehicle number plate stickers which are different to those of ordinary car number plates. A free Salik tag will be provided too.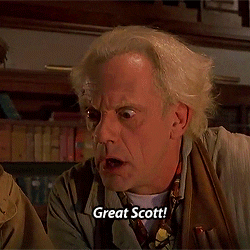 Gif credit: Giphy
Electric transportation is currently in experiment at RTA.
Sounds futuristic doesn't it? The Roads and Transport Authority (RTA) plans to replace 50% of its fleet with Tesla vehicles as well as is conducting trial rounds with electric busses. Already, RTA's fleet of Toyota Camry's are the hybrid version.