A Facebook scammer has been drawing thousands of people victim to bogus giveaways falsely endorsed by Dubai's Crown Prince, Sheikh Hamdan bin Mohammed Al Maktoum.
Fraudulent scam
With a following of over 18,500 Facebook users, the scammer has been posting fake giveaways that are too good to be true. Some of them include cars and tons of money up for grabs, by downloading a movie through a link. Check it out:
What made things worse is that his posts were engaging with thousands of likes, comments and shares. Some people are falling for the scam.
Scamster using Sheikh Hamdan's name
Under the name, 'Hamdan bin Mohammed Al Maktum,' the scammer uses the Crown Prince's images for his profile and cover pictures. The fraudster even claims his profile is a "real account" in his bio, surrounded with checkmarks and emojis, to make it look legitimate.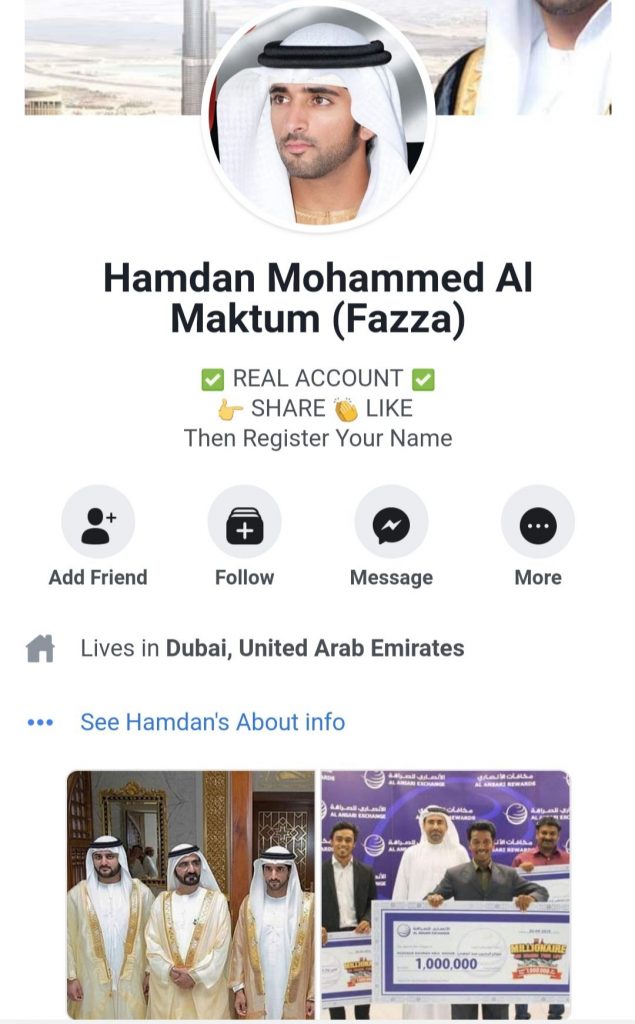 Beware: Don't fall for these scams
Scams like these ask for your credit/debit card details or to send a little amount of cash from a money exchange bureau to claim the prize. However, be warned, they could potentially hack your account and you will not receive the winnings but be left with a nasty loss.
Photograph credit: Pexels
Jail term and Dhs 10,000 fine for scammers
Scammers caught could receive a two-year jail term and Dhs 10,000 fine. Article 399 of UAE Federal Law No. 3 of 1987 reads:
'Whoever captures for himself or for others transferable money or documents or signing such document or cancelling, damaging or amending it through trickery or using a false name or personality for the purpose of tricking the victim and forcing him to deliver such shall be punished with a jail or a fine.

The attempt shall be punished with a jail for a period not exceeding two years or a fine not exceeding ten thousand dirhams.'