Talk about unusual listings on the internet, someone tried giving away a McDonald's burger after posting an ad in the UAE!
McDonald's burger giveaway, say what?!
There's little doubt that the internet is a great place to shop online, look for cars, find discounts and even order from a restaurant, but someone in the UAE took things one notch further by giving away an AED 16.75 'half-eaten big mac' on Dubizzle for free!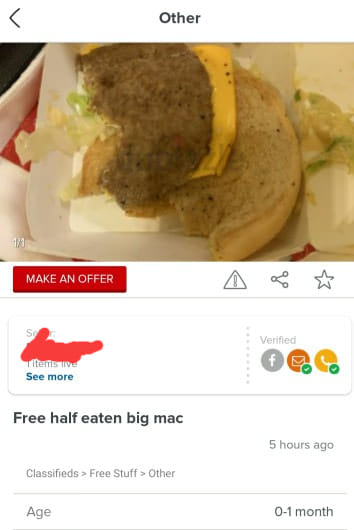 It's not the first time someone tried selling something weird online in the UAE
UAE online selling giant, Dubizzle's archives show a wacky line-up of weird stuff being sold online. Someone once posted an ad for an Airbus A340 airplane for a staggering AED 150 million, while another tried to sell a batmobile concept car for AED 3.5 million, and another user listed a golden frog for AED 3.67 million.
Via Giphy
Ebay is no stranger to half-eaten food being sold online
Ebay sent internet crazy when a radio presenter listed an infamous ad of some French toast half-eaten by Justin Timberlake. The asking price was a whopping $1,025 (AED 3,764). That's enough to get a year's supply of shawarmas!
Funnily enough, a die-hard fan of JT's former pop band, 'N Sync purchased it.
Via Giphy