Get prepared for a busy weekend with our event guide. We've come up with a rundown of all the best events happening throughout the weekend.
Who Made Who live
Where: Soho Garden
When: Thursday, 6th December
About: Copenhagen-based live band Who Made Who will be performing at Soho Garden this Thursday. The experimental pop trio burst onto the scene in the early '00s, finding fame with tracks like "Inside World" and "Keep Me In My Plane." Their innovative sounds of rock and pop earned them a reputation on the Danish music scene. For reservations, contact 052 388 8849.
Afro B live
Where: White Dubai
When: Thursday, 6th December
About: You might know Afro B as the hitmaker behind the massive Afrobeats hit "Drogba (Joanna)." The Ivorian-British singer has been a rising talent on the Afrobeats scene, blending Ivorian melodies with a fusion of British pop. 2018 has been a breakthrough year, with the success of "Shaku Shaku," "Pull Up" and "Juice and Power." Watch him perform live at White Dubai this Thursday. Contact 050 443 0933 for reservations.
du Tough Mudder
Where: Hamdan Sports Complex, Nad Al Sheba
When: Friday, 7th-Saturday, 8th December
About: It's no ordinary fun run. du Tough Mudder is a gruelling experience, taking on a line-up of 28 challenges. Participants are challenged to tackle barbed wires, mountains and tons of mud! The event goes on throughout the weekend. The best part, you can avail a 20% discount using our code: DUBAILAD20. Click here for tickets.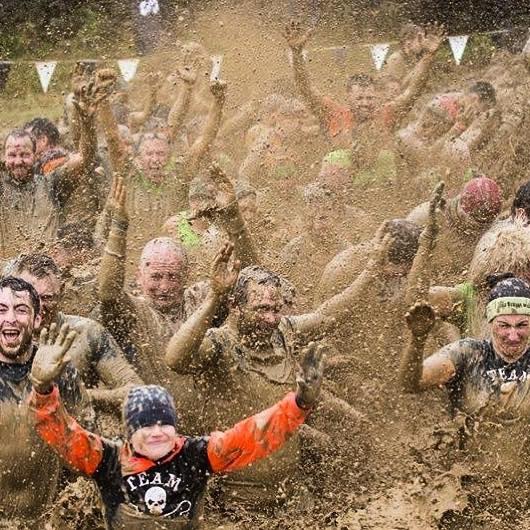 T.I live
Where: Drai's DXB
When: Friday, 7th December
About: Meydan's Drai's DXB has come up with an all-new pool party, Drip and they're flying T.I in for its launch. The Atlanta rapper has been in the game since the early '00s, delivering hits like "Live Your Life," "Whatever You Like" and "No Mediocre." Lads can enter after 1 pm, costing Dhs 200 and inclusive of two beverages, while ladies can enter for Dhs 100. Deals on cabanas and beds are available too. For reservations, contact 052 388 8857.
ANTS party
Where: Soho Beach DXB
When: Friday, 7th December
About: Soho Beach's much anticipated ANTS party is set to take place this Friday and it includes a spectacular line-up. The underground party will witness a takeover by four of the hottest names in electronic music: Davide Squillace, Yousef, Francisco Allendes and ANTS favourite, Andrea Oliva. Homegrown talents Jixo & Danz, Mar+Mer, Adam Graca and Jean B will keep the party going till midnight. Party begins at 6 pm and there's no entry charge. For VIP reservations, contact 052 433 3375 or email reservations@sohobeachdxb.com.
Lost Frequencies and James Hype live
Where: Zero Gravity
When: Friday, 7th December
About: After treating us with some of the biggest names in electronic music like Disciples, Sigma and Basement Jaxx this party season, Zero Gravity dropped a line-up today that includes big names like Lost Frequencies, the hitmaker behind "Are You With Me" and James Hype, the producer behind Kelli-Leigh's party anthem, "More Than Friends." There's free entry before 9 pm and advance tickets cost Dhs 75.
A$AP Rocky live
Where: Base Dubai
When: Friday, 7th December
About: Catch East Coast rap royalty A$AP Rocky unleash his Purple Swag at superclub Base Dubai this Friday. The 30-year-old rapper burst onto the scene in 2011 after the release of his debut mixtape, "Live. Love. A$AP," including hits like "Peso," "Purple Swag" and "Palace." He rose to fame in 2015 after collaborating with Selena Gomez on the song, "Good For You," peaking at number one on Billboard Hot 100. Since then, he's delivered hits like "A$AP Forever," "Praise The Lord," "Sundress" and "Gunz N Butter." For reservations, contact 055 3134 999.
Emirati shorts
Where: Cinema Akil
When: Saturday, 8th December
About: In line with the UAE's 47th National Day celebrations, Cinema Akil is showcasing a line-up of short films entirely produced by Emirati talents. This Saturday, the indie-cinema will screen five short films, with themes ranging from drama, science fiction, documentary and tragedy. Screening begins from 5 pm. Head to their website for full details about the films and tickets.