Followed by the success of the 'Rocky' series spinoff 'Creed', Micahel B Jordan returns to the boxing ring "rediscovering what made him a champion at the first place" with the OG, Rocky Balboa.
Storyline evolves on Adison's personal battles
Looking vulnerable and defenceless, the first shot of the trailer gives an impression that Adison(Michael B Jordan) is in poor form and it doesn't seem he's getting any better. Rocky Balboa too has lost the courage to support Adison, saying "You've got everything to lose. This guy has got nothing to lose" while the trailer shows Adison has a family now.
Ivan Drago's son will likely be the enemy
For a second, the trailer showed the opponent's jacket, reading 'Drago' in the back. Quick recap; Ivan Drago was the antagonist in Rocky IV who defeated and killed Adison's father, Apollo Creed; who died in Rocky's arms. It's most likely that Ivan Drago's son is the antagonist of the sequel. There was another moment in the midst of the trailer when Balboa recalled Apollo Creed's death, adding to the likeliness that Drago's son will be the opponent.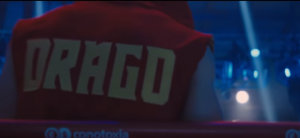 Kendrick Lamar has done the soundtrack for the sequel
Rapper Kendrick Lamar has been a revolution in rap music, especially with tracks like 'Humble' and 'Alright'. He recently did the soundtrack, 'Pray For Me' featuring The Weeknd for the Marvel Studios' superhit 'Black Panther'. His track 'DNA' is the soundtrack for Creed ll. What's more, Lamar has the record for the most Grammy nominations in a single night, surpassing Eminem.