Any self-respecting meat eater from anywhere in the world loves a shawarma. At Dubailad, we're pretty big fans of the meaty treats and we thought our of love for this wonderful meal should be celebrated with a dedicated post about its history.
Shawarma's all round
There wasn't really a global shawarma scene until the last 50-odd years (life before shawarmas must have been awful) but since its birth, the tasty treat has gone global. You can now find the delectable dish in the tiniest corners of small towns all the way up to luxury eateries in top-tier cities!
We've delved deep into the origins and evolution of the shawarma from its humble beginnings of being cooked on a sword to being part of a worldwide phenomenon.
Turkish roots
Even though there's no documented history about its origin, it is said that Nomadic tribesmen in the Ottoman Empire used to cook kebabs on their swords. This technique was supposedly the go-to method for cooking kebabs until Turkish chef Iskender Effendi created the Döner Kebab, using a skewer to vertically grill lamb and cut it into thin slices during the 1860s in Bursa, Turkey. Soon enough, different types of kebabs were developed across the region, including Şiş Kebab, Urfa Kebab, and a trademark kebab named after the inventor himself, Iskender Kebab.
Döner kebabs making it to the streets of Athens in the '20's
Turkish immigrants gradually introduced döner kebabs to Western Europe, notably Germany, Greece and The Netherlands. What a gift!
The sharing of the shawarma started off in Greece when many Turks and Armenians moved there in the early 1920s. Those with a mind for business realised the shawarma gap in the market and opened small eateries serving döner kebabs. The concept was a big hit among the Greeks, who added their own version.
Photograph credit: Pixabay
Then came the invention of Gyros
Thanks to Arab immigrants, Gyros became a popular feature on Greece's dining scene, eventually becoming the country's street food staple. They're served with lamb and beef, raw red onions, parsley, Greek yoghurt, fried potatoes and a sprinkling of cayenne pepper wrapped in pita bread. Ooof, so tasty! No wonder they went down so well!
The shawarma travels to Mexico
In a country known for its sandwich style-street food like tacos and burritos, shawarmas always had the potential to wow the Mexicans. A wave of Lebanese, Turkish and Iraqi immigrants moved to Mexico in the dawn of the 20th century and similar to Arabs in Greece, they popularized shawarmas by opening a slew of restaurants. Mexicans soon started calling shawarmas 'Tacos Arabes' until they started making their version of what's nowadays called 'Tacos Al Pastor'. It comes served in corn tortillas.
You'd be surprised to know some taco stands serve Al Pastors with pineapple! Each to their own I guess?!
Via Giphy
Germans love a bit of the döner kebab
West Germany went through a phase demanding a labour force and Kadir Nurman was their shawarma hero among the thousands of Lebanese immigrants who moved there. He did the Germans the honour of introducing them to the döner kebab with rice, meat and vegetables wrapped in durum bread. Most workers looked for lunch on the go and Nurman's version of the kebab was a big hit!
Nurman shot to fame with his creation, with many calling him the 'inventor of the Döner kebab.' At the time of his death, the shawarma scene was an established and thriving business in Germany, with 16,000 outlets in the country and annual sales of over 2.5 billion Euros (AED 10.1 billion).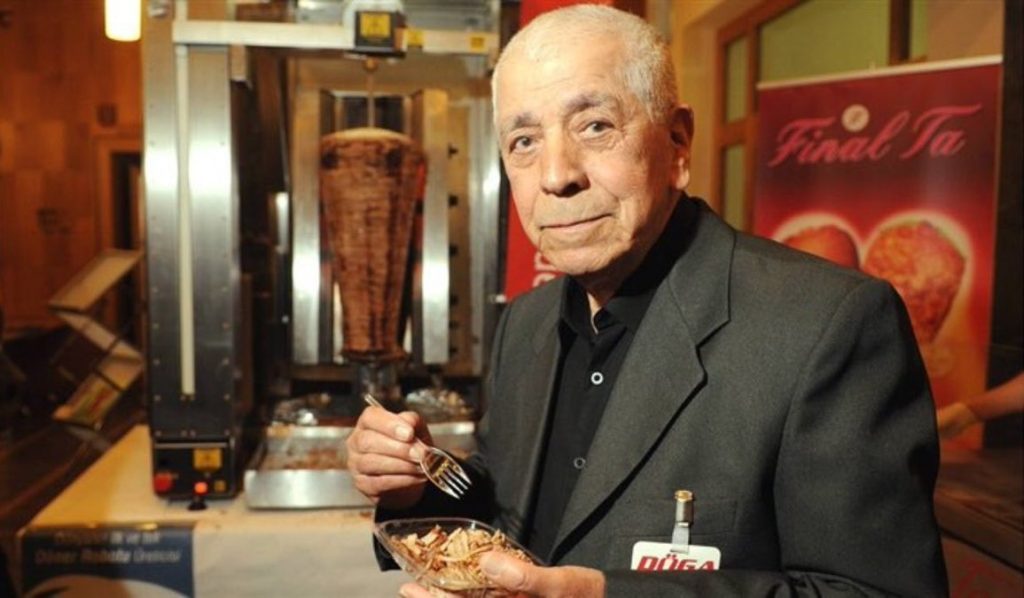 Photograph credit: T-Vine
Here's how shawarmas made it in the big smoke
By the 1970's, Gyros were a popular street food dish in Chicago and New York City, thanks to a wave of Greek immigrants moving to the country, and opening food trucks and casual dining sports. Among those immigrants was George Apostolou, who took the phenomenon one notch further by opening a factory solely to produce large quantities of gyros, supplying restaurants across the US.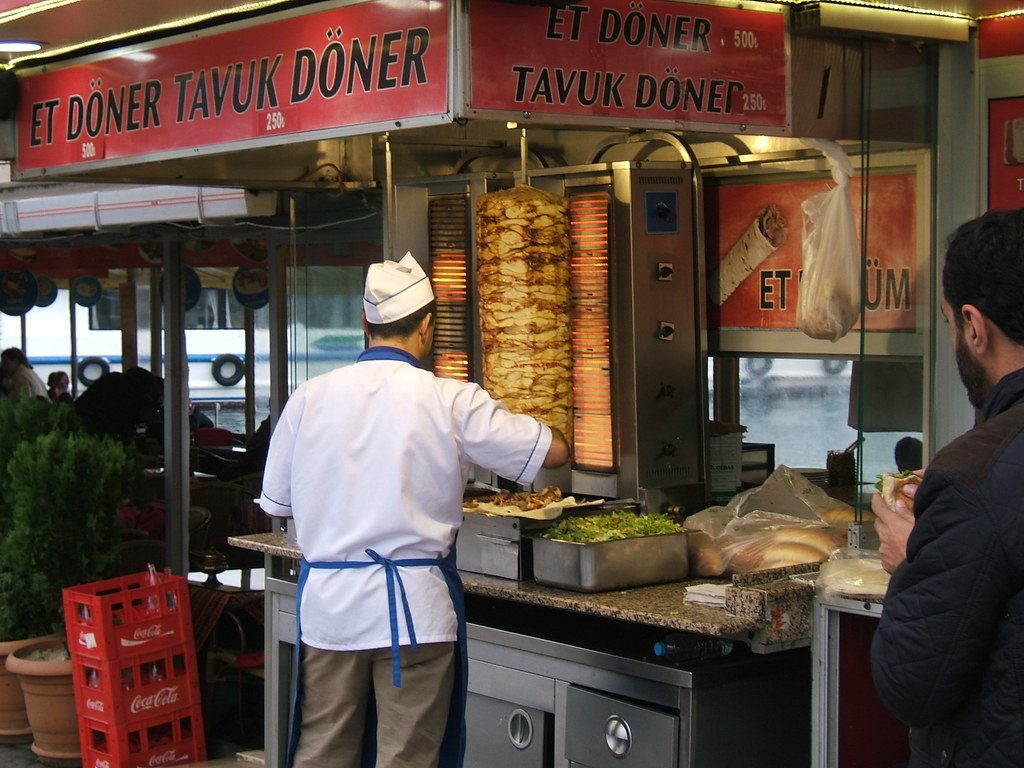 Photograph credit: Shankar S/Flickr
Kebab industry worth a whopping AED 14.2 billion
A report by the Association of Turkish Döner Producers in Europe claims the kebab industry is worth a staggering €3.5 billion (AED14.2b) and produced 200,000 jobs in Europe. That's more than the net worth of fast-food franchises like Popeyes (€1.6b), Subway (€1.3b) and Hardee's (€1.6b)!
Via Giphy
The world's biggest shawarma
In 2017, a Berlin-based shopping centre broke the world record of the world's biggest shawarma slab, weighing a massive 423.5 kgs! That's almost as heavy as a grand piano!
Photograph credit: Deutsche Welle
Remember the post-credit scene from 'The Avengers'?
Shawarma might not be talked about as much as burgers, pizzas or pastas in pop culture, but fans of 'The Avengers' might remember the entire crew munching on the meal in the post-credit scene.
FYI: There's a shawarma blanket for adults
Ever wanted to not just eat the shawarma, but be the shawarma? We know you've thought about it. Well, now you can wrap yourself in a shawarma bread blanket. It's available in the UAE for Dhs 69. Click here for sizes and details.
Photograph credit: InspirExpress
You think your baby looks so cute you could eat it? Well now it definitely does…. the shawarma blanket is available for babies too, covering them from neck to toe alongside a matching tiny cap! Check it out: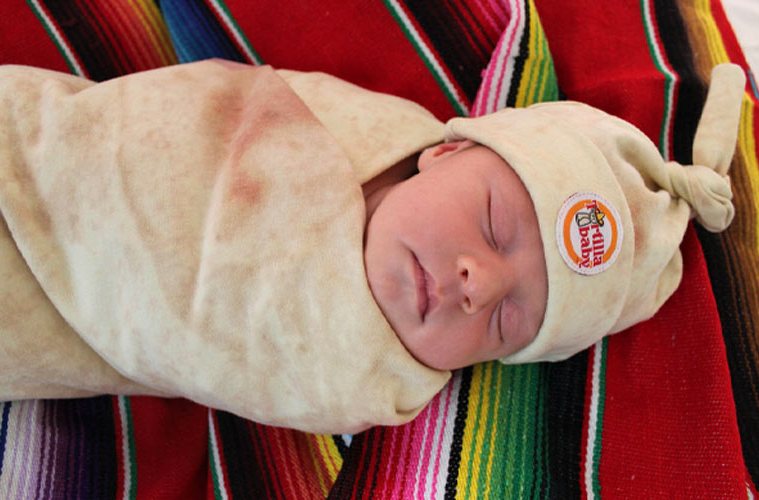 So, that's your shawarma education done! Oh and don't forget International Gyro Day on 1st September- as if you need a reason to eat shawarma 🙂