With loads of high-end restaurants and luxurious fine-dining eateries, it would seem that the UAE is a country enveloped in extravagance. If you're a high roller with big bucks to blow on food, take a look at our guide to the most expensive meals in the country.
Most expensive crab: Dhs 2,400
Where: Peppercrab, Grand Hyatt Dubai
About: There's little doubt that crab meat is one of the most desirable seafood, for its claws, legs, and bodies
Peppercrab, at the Grand Hyatt Dubai, serves a 2 kg sweet spider king crab (brought all the way from Norway), topped with chilli and black pepper sauce to add spiciness to the meat.
Most expensive duck: Dhs 1,998
Where: Hakkasan Abu Dhabi
About: For long, duck has been regarded as a pricey poultry. So it comes as no surprise that this is on our list of the most expensive meals.
At Dhs 1,900, Hakkasan serves an entire Peking duck, with a portion of vegetables and 30 grams of beluga caviar. Advance reservations are recommended, however. Check out their website for details.
Photograph credit: Supplied
Most expensive ice cream: Dhs 2,999
Where: Scoopi Café
About: Ice cream is the only item on our list that could cost you from as little as a dirham, to thousands of bucks, and the 'Black Diamond' tops it.
This ice cream is prepared using truffles, vanilla beans, and 24 Karat gold. As if the ingredients alone aren't enough to make it expensive, it's served in a Versace gold plated cup with a spoon that guests can then take home.
Fun fact: the 'Black Diamond' is the most expensive ice cream in the region and among the most expensive in the world!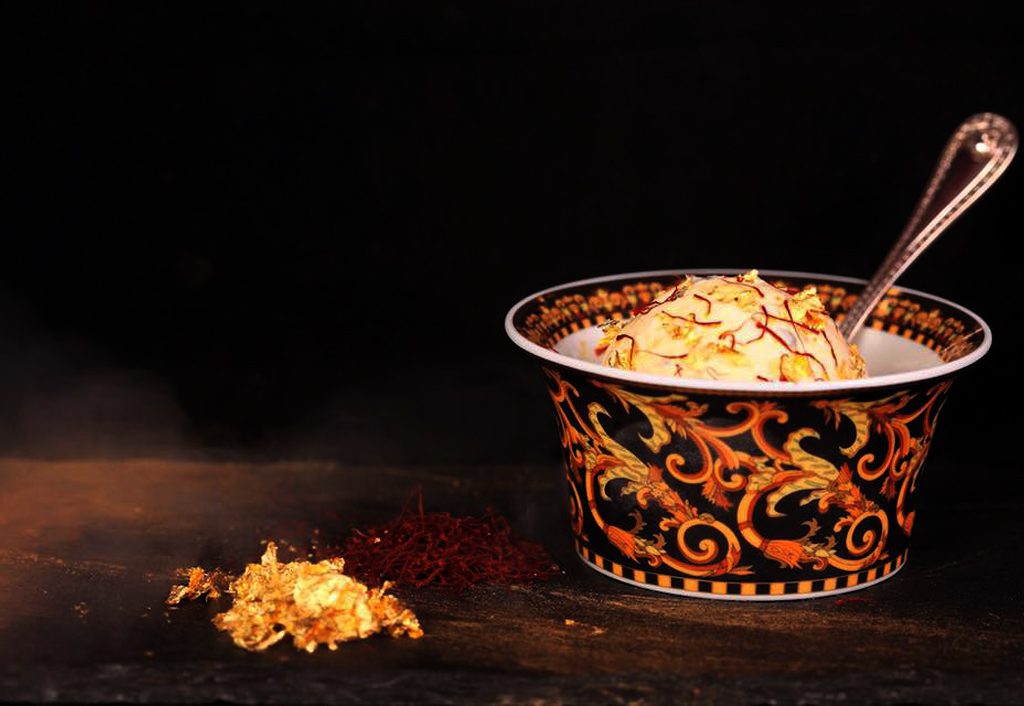 Photograph credit: Scoopi Cafe
Most expensive steak: Dhs 2,500
Where: Nusr-et
About: Ever since Nusret Gökce became an internet sensation, his steakhouse, Nusr-et has become a red-meat lover's paradise!
The meme-famous chef serves the most expensive steak in the UAE, made of wagyu beef and covered in gold.
In fact, Franck Ribéry tasted the steak when he visited Dubai last January.
Bonus! Most expensive drink: Dhs 5,800
Where: Skyview Bar, Burj Al Arab
About: As any liquor aficionado is aware of, Dubai is among the most expensive cities in the world for drinks. Burj Al Arab's Skyview Bar plays host to the most expensive beverage in the UAE, 'Macallan M Lalique,' costing a whopping Dhs 5,800 for the ultra-rich sip,
The drink includes dried fruits flavours, vanilla, ginger and cinnamon, topped with spices, smoke wood and raisin.