Dubai is always down for a party, but when it's Halloween, the city goes all out to ensure that you can get your freak on. This All Hallows' Eve is going to be big with with a line-up of legendary DJs descending upon the city for some fang-tastic parties!
So put on your best costume and tear up the dance floor with our guide to the best DJs gracing the decks in Dubai, loaded with spooktacular fun!
Giorgio Moroder
Where: Armani/Privé at Burj Khalifa
When: Thursday, 31st October
Price: Dhs 200
Timings: 11 pm – 4 am
About: Make way for the 'Father of Disco,' Giorgio Moroder set to perform at Armani/ Privé this Halloween. The iconic Italian DJ and composer has a ridiculously impressive track record of hits from the 1970's right up until today's modern times. At 79 years old, this living legend has collaborated with the likes of Donna Summer, David Bowie, Blondie, Britney, Daft Punk, Kylie and plenty more. You're bound to have heard his music in some of your favourite classic movies too, such as Scarface and Top Gun. There's really no end to this man's talents, dubbed the 'Father of Disco' because of his influence in the birth of early new wave, techno and house music. He's really something special and you would be mad to miss Moroder performing at Armani/ Privé this Halloween.
Get your tickets here.
Fatboy Slim
Where: Party In The Park at Dubai Media City Amphitheatre
When: Thursday, 31st October
Price: Dhs 250 – 6,800
Timings: 6 pm -1 am
About: One of the most anticipated days in the events calendar is fast approaching, with the fifth edition of Party In The Park, headlined by Fatboy Slim, The Kooks and Richard Ashcroft. These fantastic artists are sure make this year's Halloween a memorable one! The festival encourages revellers to 'freak, scream, rave, repeat' and dress-up is highly encouraged. Fright here, fright now…
Click here for tickets.
Joseph Capriati and Mind Against
Where: Blue Marlin Ibiza UAE, Golden Tulip Al Jazira Hotel and Resort
When: Friday, 25th October
Price: Dhs 150 after 4 pm
Timings: 1pm -11 pm
About: Blue Marlin's popular festival, Burning Beach is making a return ahead of Halloween with a stellar line-up of DJs, including one of the most in-demand techno headliners, Joseph Capriati and Berlin-based electro duo Mind Against. Frederick Stone, Michka, Barada, Bachir Salloum, Mario Bazouri and (hoolz) will also be on the decks. The Balearic beach club encourages festival goers to "Explore and embrace your wild side, dress up and show the world exactly who you want to be."
For reservations, call 056 113 3400 or drop an email to reservation@bluemarlinibiza-uae.com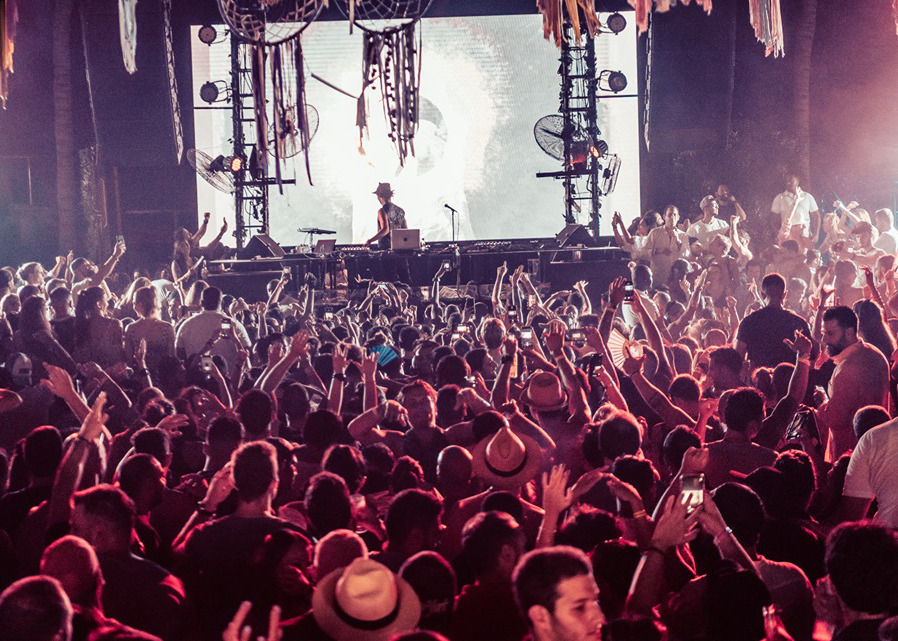 Photograph credit: Blue Marlin Ibiza UAE
AndHim
Where: Soho Garden, Meydan Grandstand
When: Thursday, 31st October
Price: TBC
Timings: 9 pm-4 am
About: German DJ duo AndHim are jetting to Dubai for a special one-off Halloween party. The production duo burst onto the house scene in 2006 and rose to prominence through music labels. They're now a common fixture on the party map of the world with their unique sound which they described as "super house".
Reservations are highly recommended. Call +971523888849 or email reservations@sohogardendxb.com.
Click here for tickets.
Booka Shade & more!
Where: Boiler Room x The Grid at Soundstage, Dubai Studio City
When: Thursday, 31st October
Price: Dhs 150-200
Timings: 9 pm -4 am
About: Underground rave expert, The Grid, is relatively new on the Dubai party scene, but it has big plans for the dance music industry in the Middle East. With an initiative dubbed #onescene, The Grid aims to bring artists from the region together with massive regional DJ line-ups. For Halloween, The Grid is bringing dance music talent from 6 different Middle Eastern countries, in collaboration with party broadcaster, Boiler Room Dubai. It will mark Boiler Rooms first Middle East warehouse rave. On the scene will be Booka Shade, a Berlin-based duo who have made waves on the electronic music circuit throughout Europe. Also featuring will be Amine K, Mad Lou, Shemroon, Siamak Amidi, Hameed, Aaron Kim and Nesta. Expect a massive rave with epic production and lighting displays.
Click here for tickets.
It's Junior J and DJ Flipp'Side
Where: Toy Room DXB, Meydan Racecourse, Grandstand
When: Thursday, 31st October & Friday, 1st November
Price: Free for ladies
Timings: 11pm to 4am
About: Toy Room DXB, one of Dubai's ultimate clubbing hotspots has gone super current and fun this Halloween with a Stranger Things theme, dubbed Stranger Frank. Frank being their massive party bear mascot, of course. They don't do things by half at Toy Room so they're celebrating with not just one, but two big nights! Stranger Frank Part 1 on 31st October will feature It's Junior J. Stranger Frank Part 2 brings DJ Flipp'Side to Toy Room on the 1st November. DJ Flipp'Side has been making waves in the Middle East club circuit over the last few years. A master of HipHop, RnB and Old School, combined with It's Junior J, the pair will deliver a night of banging tunes this Halloween. Frank says don't forget your fancy dress – an 80's or monster get up is appropriate, obvs. Here's how last year went down!
For reservations, call or WhatsApp +971 52 463 3338, or email: reservations@toyroomdxb.com