Luxury airline giant Emirates has revealed a new concept on the future of its flights and its technology could be a game changer in aviation.
Windowless technology will soon be a reality
Soon, planes will be windowless but that doesn't put an end to the fun of having a window seat. The windows will be replaced by 'virtual windows' using real-time fibre-optic camera technology. According to a news release by Emirates, they're planning to make this concept a reality because removing windows will reduce a plane's weight.
Virtual windows will be available on the first class private suites
Combining high-tech and luxury, the Emirates engineering team has come up with the ultimate suite and has unquestionably set the benchmark for air travel. In the first class private suite, passengers can enjoy features like mood lighting, personal video-call service, soft leather seating, sliding doors and high-tech control panels. What's more, the design aspects of the suite has been inspired by Mercedes-Benz(!!!).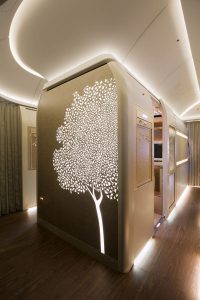 Emirates recently started flights to London Stansted
Now the seventh airport in the UK from which Emirates operates, the aviation giant now has ten flights flying daily to three airports in London, including Heathrow and Gatwick. Rest of the locations in the UK that Emirates flies to are Newcastle, Glasgow, Birmingham and Manchester. The Stansted announcement will follow up with flights to Edinburgh in October.
Emirates celebrates the inaugural flight of new daily service from Dubai to London Stansted. @DubaiAirports @Stn_airport #FlyLondonStansted https://t.co/MFGkQhzKyd pic.twitter.com/oxlaFsqDsz

— Emirates Airline (@emirates) June 9, 2018